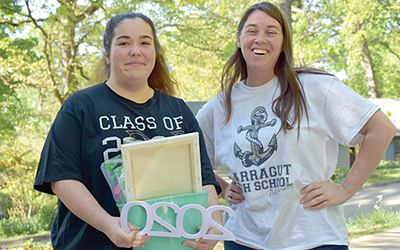 Just hours after the devastating news that schools would be closing for the rest of the school year late last week, two women with ties to Farragut High School made it their mission to honor the senior class.

Kim Deakins, an FHS graduate who previously worked in the front office, and former FHS English teacher Mollie Townley, established the Farragut High School – Class of 2020 Adopt a Senior page on Facebook, and in only three days found matches for nearly 200 seniors.

Townley, who now teaches at Maryville High School, said she was invited to the MHS "Adopt a Senior" page "and loved the idea. But I didn't teach 12th grade this year, and don't know a lot of the (MHS) kids. It hit me that I do know pretty much all the FHS kids, and I texted Kim because I know she knows a ton of parents in the Farragut community and she used to work there, too," she added.

"There wasn't a group for them yet, so we decided to make one. Kim and I just love these seniors, and we wanted to give back to them. When you work at a school, those students become your kids. We get invested and love them. Just because you're not in that building anymore doesn't mean you forget them."

Parents eagerly jumped on the effort, posting pictures of their children, along with their list of accomplishments and what their future plans might be, with each student being informally "adopted" by members of the community, teachers or friends.

Both women have been touched by the overwhelming response.

"It has been amazing to watch this community in action this way," Deakins said. " We have had primary school teachers, coaches and former graduates all adopt a senior."

"I have even had people privately message me to say they would be willing to step in if more students need to be adopted," she added. "We have really seen the good in people."

Among the first to be "adopted" was Samantha Garcia, who eagerly was chosen by FHS teacher Allison Carr — the girl's first math teacher when she began attending the school in 2017.

"When I saw her listed, I said, 'she's mine,'" Carr said with enthusiasm. "Honestly, she is such a bright light and a very special student in so many ways."

Carr visited Garcia Thursday, April 16, and presented her with a small gift basket right after Garcia's family surprised her by decorating their Stonecrest yard and house with graduation décor to honor her accomplishments.

"We wanted her to know we haven't forgotten about her," said Garcia's mother, Yami Suarez-Lopez, who had planned the surprise for several weeks along with Sam's step-father, Franky Lopez, and her brother, Franky Lopez Jr.

"She worked so hard," Suarez-Lopez said of her daughter, noting she was diagnosed at age 6 with high-functioning autism, attention deficit disorder and a speech disorder.

"Despite it all, she has accomplished so much in her life, and nothing has stopped her from trying new things," the mother added. "She has a passion for anything in law and dreams that one day she could work with the police department. I am very proud of my beautiful daughter for everything she has accomplished."

Garcia was overwhelmed with surprise, and excited to see Carr.

"I'm just so happy right now, and thank you so much," she said to her family and Carr.

While gifts can be part of how adoptees encourage their chosen students, "This is not about buying gifts," Deakins said. "It can be something as simple as an encouraging note. Just so that these seniors feel seen, heard and celebrated."

As of Monday, April 20, every senior listed has been adopted.

"Parents are constantly adding posts," Townley said. "We encourage everyone to check the group throughout the day. People can see and hear all about the seniors, and they can adopt if they feel so led.

"People really want to bless these kids," she added.

"I would say our biggest concern in starting this project is that someone might be left out," Deakins said. "We are doing everything in our power to include every senior."

Anyone not on Facebook can contact Deakins via e-mail at kimcdeakins@gmail.com.

"Right now we are reaching out to people not on Facebook by asking other members of the group to contact anyone that might not have heard of our group [using] word of mouth and intentionally contacting people that may have been missed.

This Farragut group is not affiliated with Knox County Schools or FHS, and many others sprang up over the last week to identify and honor seniors throughout Knox County.