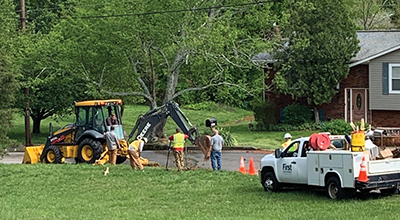 Subcontractors placing 5G fiberoptic cable in Stonecrest accidentally broke through both a gas line and a water line last Tuesday, April 14, forcing both to undergo emergency same-day repairs.

Debbie Konopka, who lives along Dineen Drive, reported her water line was cut around 4 p.m. that day, and remarked on the neighborhood's Facebook page about the incident.

"About 4 p.m., my water pressure got really low," she said. "I found out from an unnamed worker they had hit a water main break. He told me his supervisor was taking care of it."

Another Stonecrest resident, who asked their name and address not be used, reported their main gas line was "busted" that same afternoon, noting a Knoxville Utility Board representative visited the home to "check all the pilots inside and out.

"My house could have exploded," she added.

In a separate interview, the resident said, "Unless I am missing something, from a safety perspective, I am surprised we were not asked to evacuate the home while they fixed it. I did not know until the KUB guy came to relight the pilot after it was fixed that it was broken.

"I am also concerned this break will cause future issues that I will be on the hook to pay for," she added. "And, why weren't water and gas lines marked prior to digging by KUB and Lenoir City Utility Board to avoid this?"

Existing utility lines had been marked along the roadways, but Konopka said she was told by a KUB employees that "whoever marked our property messed up and that's why both of us had these problems today" and she said she was also told "the crew was fired" after the utility mishaps "due to their incompetence."

"My concern is that everyone I talked to was saying someone else was in charge," Konopka said, noting she had called Town of Farragut for information.

"I was told (the crew) was supposed to put out fliers, but there was no notification on my door," she added. "Someone needs to take responsibility. No one is keeping us in the loop. The ball is being dropped, and there appears to be no oversight."

The 5G fiberoptic cables were approved by Farragut Municipal Planning Commission in December, and at that meeting project applicant MasTec representative Mike Majka — who works as a subcontractor for Verizon — assured the group flyers would go up along both sides of each street where the work would take place.

Attempts to reach Majka were unsuccessful following the utility breaches.

Chloe Pool, communications manager with First Utility District, said the rush for 5G installation nationwide has led to an abundance of "cut corners" and utility breaks that are "happening regularly and are a major problem for utilities across Tennessee.

"Right now, telecommunications companies are in a fierce competition for 5G customers," she added. "5G internet requires a lot of new infrastructure, which requires digging (directional boring).  When you combine a race for customers and the need to dig, you could easily end up with a lot of cut corners. Sadly, it's happening all over the place and is a nightmare for utility professionals. Many contractors just want to get in and get out, but what about those utilities under the ground that haven't been properly located?

"According to state law, utilities must be given time to mark the location of their utility lines before excavation work begins," she added. "Yet, many contractors are failing to abide by this state law. Without utility lines being marked, contractors are very likely to damage lines or bore right through them during their excavation work.

"In cases where contractors are locating lines, they have at times ignored a crucial step — the industry best practice of potholing to confirm the location of those lines. Unfortunately, the high pressure, competitive atmosphere around 5G is creating the perfect storm for contractors to frequently disregard state law and industry best practices. First Utility District employs designated staff to locate utility lines for contractors and must be notified of work so our locators can advise contractors.

"... We work diligently to respond to the scene quickly and return your water service as soon as possible."

"We make you aware of these developments to offer information related to the recent uptick in waterline breaks across Tennessee. Some of these happened despite proper protocol, but many are occurring because of a failure to comply with state law or abide by best practices.

"Regardless of the source, we apologize for the inconvenience these breaks cause you, and we will continue to keep you informed on this situation. Please know that, even though our field crews are not responsible for breaks caused by contractors ...