San Diego native 'thought it was a neat idea to bring' to Farragut area, illustrating family life during COVID-19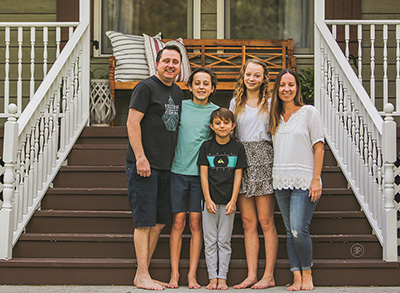 While many families have been home and sheltering in place over the last several weeks due to COVID-19, photographers across the country have been taking their pictures from a distance under several working titles, including "The Porch Project."

The idea behind it has been to record the pandemic as it has pertained to day-to-day life, and to provide some work for those whose livelihoods have been interrupted.

Fellow photographer Emily Thurner, who lives in Choto, was intrigued when she found the movement on social media.

"I thought it was a neat idea to bring to Knoxville," said the San Diego native, who moved to the area with her horse-trainer husband, Garrett, last year.

While the two share a passion for horses, Thurner has the added skill of equine photography, which she has honed and refined over the last seven years, as it evolved to include professional portraits of families, senior photos and other special occasions.

"The Porch Project" has allowed her to offer mini-sessions in Farragut and Hardin Valley neighborhoods, maintaining social distancing guidelines by using a telephoto lens.

"It has been so much fun," she said. 'I have enjoyed meeting people and learning about them and their situations.

"It has also been neat to be able to capture candid moments between family members," Thurner added.

Mini-sessions are not ones Thurner would typically offer, she said.

"Normally, full sessions take more time in order to get a larger variety of photos and are more expensive, but I am offering the shorter front porch sessions until the quarantine is lifted."

Not only is it an opportunity to provide fun family photos, but Thurner said it's also a chance for potential clients to become more familiar with her and her work.

To schedule a session, contact her via her website, www.emilythurnerphotography.com.

Thurner said she will be taking reservations through Friday, May 8.