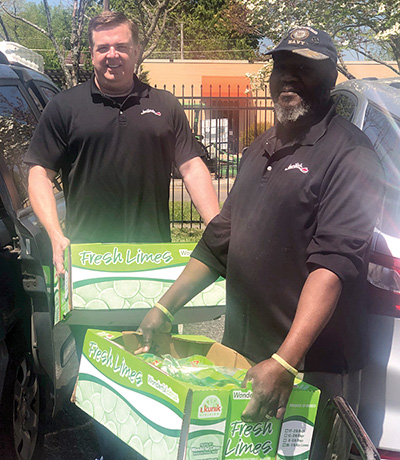 The Love Kitchen, located in East Knoxville, may seem far from Farragut — but not to Susan Grimes.

While Farragut High School's Student Government Association is known for its 10-day canned goods donations there, which annually breaks The Love Kitchen records for one-time giving, Grimes volunteers there every weekday and sits on its Board of Directors.

The Farragut resident has long had a heart for the ministry, which was started in 1986 by sisters Helen Ashe and Ellen Turner, and serves homeless and homebound citizens all over the region.

Her emotions were further stirred by an increase in the number of individuals seeking assistance since the COVID-19 Pandemic has shuttered most of the United States.

"We have been getting many more calls, and working in the office I have seen the number of intake forms increase," she said. "People keep calling and telling us they need food 'today."

"We could certainly use more volunteers and donations," said Patrick Riggins, executive director of The Love Kitchen, who added, "the numbers have certainly been edging up from week to week. We were serving about 100 meals, but now it is up to about 300 meals.

The Love Kitchen operates entirely on donations to feed the hundreds of walk-ins who visit the 2418 Martin Luther King Blvd. location for meals on Wednesdays and Thursdays, along with the more than 3,000 who are fed by a contingent of volunteer drivers who take meals to the needy.

Riggins said each person who receives the deliveries receives anywhere from seven to 21 meals at a time.

"Most of the deliveries are to the disabled, elderly and homebound," he said.

"Many of them might just eat one large meal a day and snack the rest of the time, but if they need more than one large meal a day, we will provide more."

He said, too, with students being out of school, in some cases, "We have gone from feeding one person [in a household] to feeding as many as five or six."

The Love Kitchen delivers all over the Greater Knoxville area, even into Farragut, as well as Blount, Sevier and Loudon counties, Riggins said.

"There is some real need in Anderson County, too, but right now, we don't have any drivers."

As for noting other sources of food, Costco donates food "every day," Riggins said. "All of their produce, bread and desserts they don't sell, they give to us, and it saves us so much money."

He also made note of the annual FHS SGA canned food drive, held every October.

"They always do a really fantastic job," he said. "Every year, the class coming up beats the previous record. And what they donate, typically gets us through the holidays and into the winter months."

Anyone wishing to donate may do so by calling 865-546-3248, or by visiting thelovekitchen.org.