First of a two-part series on special soccer volunteers; Rzezutko 20-plus 'Voice' years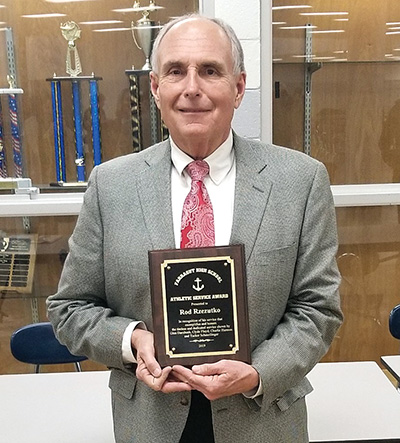 For more than 20 years, Rod Rzezutko has worked behind the scenes for the Farragut High School boys and girls soccer teams.

And his pay has been little more than a soda pop at halftime from the concession stand. You may not recognize his face, but any regular at Farragut soccer matches definitely knows his voice.

Rzezutko has been the public address announcer for FHS boys and girls soccer teams since the late 1990s and he's only missed a handful of games.

"I started back in 1998 or 1999," said Rzezutko, who like most is missing the game that he loves while the nation and the world are social distancing as we endure the COVID-19 pandemic.

Rzezutko, who received the Athletic Service Award from Farragut High School Hall of Fame committee in 2019 — which it presented during that year's Induction Ceremony in early February — said he's always been a sports fan. Growing up in Michigan, his favorite team was the Detroit Lions.

"Being in Michigan, it was all about the Detroit Lions growing up," he said. "And then, they were good and they had (defensive back Dick) 'Night Train' Lane and we were good.

"But things change."

Developing his passion

Like many Americans, Rzezutko developed a passion for soccer as a parent who had a child in the game. Drew Rzezutko wanted to play soccer early in life. He began playing when he was 3 and Rod was thrust into the world of coaching.

"Drew began playing in AYSO when he was t3 and I became an AYSO coach," Rod said.

Drew developed as a player, and as he progressed in the game and became a club coach it was then he met the likes of current Knoxville Catholic High School boys head coach Gordon Heins. He also developed a relationship with Rick Radcliffe, father of Bearden boys and girls head coach Ryan Radcliffe and longtime groundskeeper at BHS's Turner-Allender Field.

"As Drew went on, I became a club coach and worked with people like Gordon Heins," said the elder Rzezutko, who would one day get a call from longtime soccer administrator David Melendy and others encouraging him to coach soccer at Farragut Middle School.

FMS fielded three teams when Rzezutko coached.

He began coaching the C-Team, then moved up to the B-Team before landing the coaching job with the A-Team.

And things started well.

"We had a really good team," he recalled. "We went undefeated and we got a chance to play in the (league) championship game against Robertsville from Oak Ridge, and we lost that game in a penalty kicks shootout.

"And that was the only game we lost all year, and it was also the first time that Farragut Middle School had lost a game in 17 years," Rzezutko said.

Technically the Ads didn't lose. The game went down as a tie. "That game went down, technically, as a tie, but they didn't want to hear that," he said.

That would be the last middle school game Rzezutko would coach.

"The Voice" of FHS soccer

But he got another call from Melendy, this time it was to offer him the job as the high school gameday announcer.

"They called and told me that they wanted me to be the public address announcer for the high school games," Rzezutko said. "Gordon told me that I should take the job."

Rzezutko did. And the rest is history. He doesn't make any money for calling games and never has. But that doesn't matter.

"It's a labor of love for me," he said. "I love the coaches and I really love the kids.

"To me, it's all about the kids. One day (FHS athletic director Donald) Dodgen came to me and said that he didn't know how much I was getting paid, 'but that they should double it.'"

"I told coach Dodgen that all I got was a Diet Coke at the half," Rzezutko added.

He worked around highly successful former coaches Dennis Lindsay and the late Wallie Culbreth, plus Drew Payne and current boys head coach Ray Dover.

He's also forged friendships with team statistician Bruce Mottern, FHS athletic trainer Jenny Massey and longtime FHS administrator Kellie Ivens, who is now at Hardin Valley Academy.

"Jenny and Bruce are just great, and I have coach Dodgen; and Kellie Ivens was great when she was here," Rzezutko said.