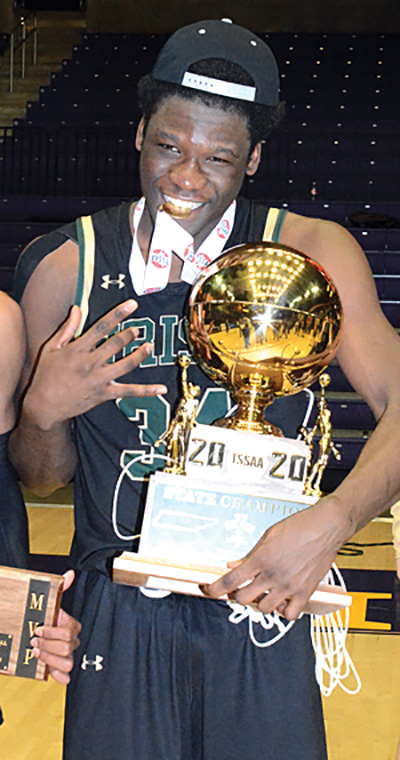 KNOXVILLE — Akeem Odusipe, one of two key Knoxville Catholic High School basketball big men, had a huge senior year.

First, he helped the Irish win the 2020 Division II-A state championship, its first boys basketball state title in school history.

He also was named to the Tennessee Sports Writers Association All-State team in KCHS's classification recently, joining sophomore teammate point guard B.J. Edwards.

And then on Wednesday, April 22, he officially announced his future in academics and basketball. He had Division 1-A offers from Rhode Island, West Virginia, Seton Hall, Maryland, University of Texas-Arlington and Georgia among others.

But his verbal commitment was to Vanderbilt.

"This was his dream," Catholic long-time head coach Mike Hutchens said. "He wanted to play in the Power 5 and he wanted to play in the SEC."

A versatile defender and one of the Knoxville Area's most dominant post presences --- both offensively and defensively — as a 6-foot-9 power forward, Odusipe averaged 10.5 points and 11 rebounds in Catholic's two state tournament games in Nashville.

He helped lead the Irish to a 25-4 record by averaging 16.3 points, 11.1 rebounds and 2.4 blocks per game.

Other All-State honors, signings

Catholic freshman point guard Jazmin Williams also was named to the TSWA Division II-AA All-State team last week.

Hardin Valley Academy senior wrestler Josh Pietarila was named to the TSWA Class AAA All-State team late last week.

A 170-pounder during his senior campaign, Pietarila was a three-time state runner-up during his stellar career with the Hawks.

Pietarila will wrestle at Cumberland University in Lebanon.

Several other HVA athletes recently signed National Letters of Intent.

Declan Brophy will play football at Austin-Peay; Joey Leo and Malaika Grice both will head to Walters State Community College in Morristown. Leo will play baseball, while Grice, a standout post player for the Lady Hawks, will continue her basketball career.

Kyra Ranvek will play soccer at East Tennessee State, while Brady Hauk will swim for Grand Canyon University.

Luke Burnett, Webb School of Knoxville basketball senior forward, was named to the TSWA's Division II-A All-State team. He help lead the 2018-19 Spartans to a state championship.

Signing with the University of Alabama-Huntsville, "He''ll have a great career in college," Webb head coach Ricky Norris said. "This is my 29th year coaching and he's the best shooter that I've ever had.

"I saw him score 48 points at Heritage, but the biggest thing about him is his willingness to play in our system," Norris added. "He's going to Alabama-Huntsville, a Division II School, and he won't have to pay a dime for college."

Burnett is not the only Spartans standout set to play college basketball next season.

Senior standout guard Tariq Daughton has signed with Lee University in Cleveland.