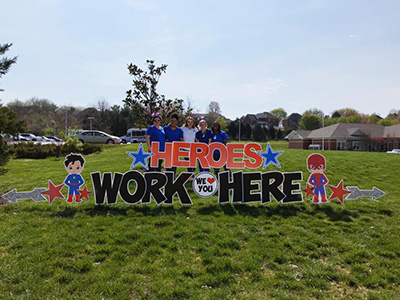 At least one local business has not been negatively impacted financially by COVID-19.

Jill Peterson, owner of Sign Gypsies — West Knox, said, "Business has been booming. We've been booked solid, every day, mostly birthdays, but hospitals, too.

"The neighborhoods like the signs so that friends can drive by or ride their bikes by the house to wish them a happy birthday."

Additionally, Peterson offered up some of the whimsical signage, free of charge, to honor healthcare workers, including at NHC-Farragut in early April.

"(Peterson) wanted to give back to local facilities, and it has been a big hit here," said NHC-Farragut recruiter Tonya McDonald, noting the encouraging signs included "Heroes Work Here" and "NHC Cares."

"She donated the sign for free for four days, and the staff really loved it," McDonald added. "It has been something positive during this time of quarantine and was also a great way for us to encourage them and thank them for all they do."

Not only staff, but NHC residents enjoyed the displays, too.

"We have patients here who are away from their families or don't have them, and this has really been an encouragement to them," she said. "It was a way to show that we are all in this together, and it made a big difference.

"I think everyone needs a smile during these times, especially," McDonald added.