Final of a two-part series on special soccer volunteers: Barton key element of BHS 'crews'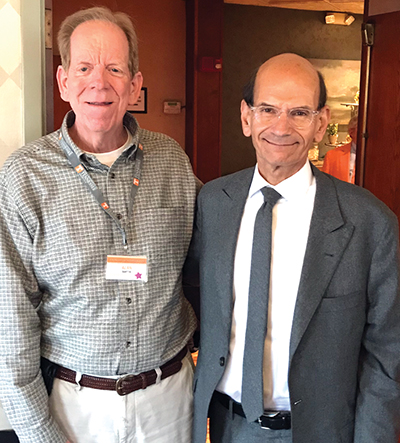 KNOXVILLE — When you enter Bearden High School's Radcliffe-Kelly Soccer Complex, one of the first people you see is Alan "Red" Barton.

He is always cheerful and cordial, and for more than 15 years has been serving, as an alumni, the highly successful Bulldogs and Lady Bulldogs soccer teams.

Barton is not a coach, but he's as dedicated to BHS soccer as any coach is or has been. He is one of several on the school's soccer pressbox crew.

That features a group of longtime soccer dads, which also includes Dr. David Harris, Jeff Riemer, Tim Scott, Wesley Stone and Jerry Gianeselli.

Most of the group's children have graduated, but the guys all stuck around the program. They now run the pressbox along with Fritz Thumler.

"We call ourselves the pressbox crew, and we've all had kids play in the program," Barton said. "I jokingly say that I'm the boss. We used to call ourselves the field crew, but now we're the pressbox crew."

As "the field crew," many of them worked along Jim Kelly and Rick Radcliffe to construct what is now Turner-Allender Field, the home of Bearden soccer.

Those on the pressbox crew have various duties and can perform a multitude of duties.

But there's nothing Barton can't do.

He serves as the game day statistician and handles public address announcing duties when Harris, the longtime "Voice of Bearden soccer," is not available.

Family of Bulldogs — with a summary

Everybody involved joined the crew when their kids were playing. Barton, a longtime sports fan, first worked in the program when his daughter, Amanda, was playing.

His son, Jed, also went to BHS.

"My first game was in 2005 when my daughter was playing, and they won the state championship (2006 and 2007)," Barton said. "I was a freshman parent."

Red threw himself into his duties the following year. He began taking stats and writing postgame summaries that often appeared in area media outlets.

"I began writing summaries, and it was all about positive news," he said. "The parents loved it. Rick liked them and Eric liked them."

Ryan Radcliffe liked them, too.

"Ryan and Eric never influenced anything that I wrote," said Barton, who graduated from BHS in 1970.

Sports fan, sportswriter

A lifelong Tennessee sports fan and staunch Baltimore Orioles supporter, Barton has always had a passion for sports. He once wrote for West Side Story, which later became The Bearden-News Enterprise.

The paper is now farragutpress.

"When I was in college they needed a sportswriter," he said. "I covered Cedar Bluff Middle School basketball, and we did some UT Swimming stories — and then I wrote a column of my own every week."

That was a natural job for Barton, who always hung around ballparks during his youth.

"I always liked to hang around the ballfields," he said. "I went to the old Bearden High School. Every time something was going on, I could always walk there and walk back.

"My mom always let me go."

Now, he strives to give fans, coaches, players, officials and sportswriters the ultimate game day experience.

"We want to make it to be a professional experience," Barton said. "The officials love to come to Bearden."

Who's the boss?

The soccer complex is named in honor of Kelly (a longtime soccer supporter) and the Radcliffe family, the first family of BHS soccer: Rick (groundskeeper), his wife, Linda (former Bearden assistant coach) and sons, Derrick (All-state midfielder who helped lead the SoccerDawgs to a undefeated national title seasson in 2002, won two state titles and played at Alabama-Birmingham) and Rick (standout player who helped BHS win the 2006 state title before returning to his alma mater and leading the BHS boys, as head coach, to state titles in 2016 and 2019).

Barton said Rick Radcliffe actually runs things at Turner-Allender Field, while Linda remains around the program after serving as an assistant to another highly successful Bearden soccer head coach, Eric Turner.

"I say that I'm the boss, but Rick is actually the boss," said Red, who is retired from First Tennessee Bank after 22 years on the job.