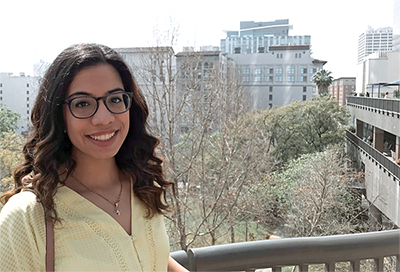 The school year may not be ending as expected, but Farragut High School Class of 2020 valedictorian Alisha Soni is maintaining the upbeat attitude that has guided her through the last four years.

"I am kind of disappointed about prom and graduation being cancelled, but I know that it's not the worst thing in the world," Soni said. "There are a lot of other people in worse conditions, so I feel very blessed, all things considered."

She found out in February she had achieved the top class ranking, and is graduating with a 4.76 weighted grade-point average.

"I knew I was in the running for it, but I was not completely sure that it was going to be me," Soni said. "To say the least, I was extremely happy when I found out that my four years of hard work had paid off."

In addition to an impressive GPA, Soni's extracurricular activities have included four years with the school's Student Government Association and the Health Occupation Students of America; serving as president of the National Spanish Honor Society her senior year; membership in the National Honor Society; and as a two-year youth representative to the Town of Farragut's Education Relations Committee.

"Over the summers, I was an ambassador, then a junior staff member for the Hugh O'Brian Youth Leadership Seminar — a statewide conference for high schoolers to learn about leadership," Soni said, adding she has been a VolunTEEN for East Tennessee Children's Hospital for the last three years.

She also found time to work at the Turkey Creek Chick-fil-A, a company which recently honored her — and three other co-workers — with a $2,500 Remarkable Future's Scholarship.

"My bosses came to my house and surprised me with a package that had my scholarship letter, a stuffed animal and balloons in it," she said. "I was really surprised to see them.

"I am super thankful to have received this scholarship and to the Turkey Creek Chick-fil-A — they have always been so accommodating and supportive of my educational goals," the FHS senior added.

Soni will be attending her "dream school," the University of Southern California, this fall on a full-tuition merit scholarship, where she plans to major in environmental studies and global studies, with a minor in Spanish.

"I was extremely surprised and happy to be accepted and to receive the scholarship," said Soni, who points to her parents, Anuj and Ruchi Soni — both of whom immigrated to the United States from India — as inspirations.

"I am super thankful to my parents. Hearing the stories of what they went through when the came to this country has really motivated me to try my best in school," she added.

"My parents are from India; my mom came here when she was was 5, with my grandparents, and my dad came here when he was 20."

Her brother, Akshay Soni, went to Vanderbilt on a full-tuition scholarship.

"I owe it all to them. I am super happy that my brother and I have been able to accomplish what we have to make them proud," Soni said.