Concord United Methodist non-profit takes to the road to serve needs, entertain families in Farragut, area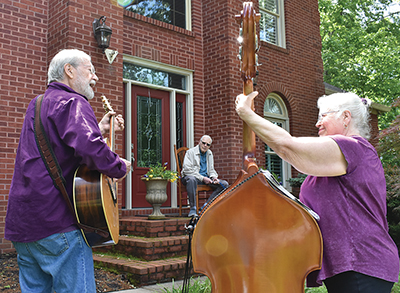 Instead of offering its normal full slate of on-site activities, workers and volunteers with Concord Adult Day Enrichment Services — a non-profit operating out of Concord United Methodist Church — have been taking its programs on the road to homebound participants and their families.

In addition to live streaming devotional time, exercise classes, interactive projects and even regular online support programs for caregivers, "CADES at Home" has evolved over the last weeks to include meals, Bingo and even on-site music.

Concord United youth group members Olivia Schlomer and Addie Grace Fields have been singing for several CADES members recently, as have husband- and-wife blues/bluegrass/adult contemporary acoustic musicians Cecil and Pamela Thomas, who perform throughout the region as "Brandywine."

The duo played in the Farragut Crossing front yard of CADES participant Bob Mysinger and his wife, Bonnie, just last week, on April 30, with Cecil on guitar and vocals and Pamela strumming the bass fiddle.

"They are my favorite — no question about it," said Bob, who had enjoyed monthly performances from Brandywine at CADES prior to the pandemic and was excited to be able to enjoy them again from his front porch.

"When he found out they were going to be at CADES, it would always make his day," Bonnie said.

The mini-concert, described as a "CADES Drive-by" by organizers, included "Bad, Bad Leroy Brown," "Hey, Good Lookin,'" "I'll Fly Away" and "Fulsome Prison Blues" among others.

Brandywine played for more than 20 minutes for the Mysingers before moving on to their next front-yard venue.

"Since our doors closed, we decided to bring our services to our clients, and that has included music," explained CADES' executive director Celia Gruzalski, who visited the Mysingers (while socially distancing) along with her children, Silas, 8, and Ella, 12, who also brought flowers.

"Music is such a huge blessing for our participants and something they really enjoy, so we have been planning these visits around the nice weather," Gruzalski said. "Music is such a good thing to share, and we have such talented musicians who are able to share that, too. We are bringing deliveries twice a week, and have activity packets, along with something for the caregivers, maybe a card, or a poem."

Gruzalski said an unexpected gift from CUMC member Bob Wilson, given "in memory of his wife, Carole, who loved the CADES program," has allowed CADES to continue its services to its participants and their families, and also has helped ensure CADES employees have been able to keep their health insurance as the program has transitioned off campus.

"We have just had an outpouring of support, and even been able to offer technological assistance to our participants who needed it," she added.

"But we are certainly looking forward to the day when we can all be safely together again."

"They have been such a blessing, both to Bob and to me," Bonnie said. "I have never known a more caring or loving group of people as I have with CADES.

"And, even now, they have stayed so involved with our lives. It has really helped," she added.

CADES has about 25 participants who live in and around Farragut, as well as in outlying areas that include Corryton and Tellico Village.

Gruzalski said CADES also has been working "to provide crisis guidance and resources to area families who may be facing challenging situations at home with their loved ones living with dementia. 

"If anyone in the community needs support, they can reach out to CADES at 865-675-2835, at www.concordumc.com/CADES and/or contact Alzheimer's TN 24-hour help line at 800-259-4283," she added.