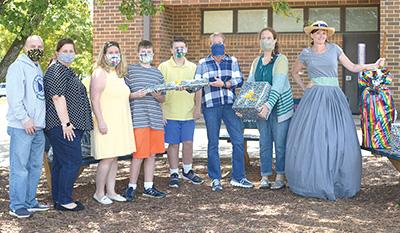 Knox County Schools's teachers, administrators and staff are getting "adopted" as a way to recognize their good work.

Farragut Primary School special education teacher Daniel Wills and Farragut Intermediate's art teacher Christy Davis, computer science teacher Kristi Shedden and librarian Sarah Campbell are among those adopted through an online group.

"I'm very excited, very thankful," said Willis, who just ended his seventh year teaching but first year in Knox County Schools. "This year was very difficult, but with all the support from my family, teachers and whatnot we were able to get through it.

"Then the crazy shutdown happened, so we are just trying to make it," he added. He was nominated by his wife and adopted by a neighbor, Allison Sage.

"We've become friends with their family, and they've always been very supportive since we moved in," Willis said.

Shannon Allred, a parent and FIS clinic volunteer, adopted Davis, Shedden and Campbell.

"It's exciting because I always wanted to have a bigger family," Davis, a 13-year teaching veteran, said and laughed. "I'm an only child and I only have three kids.

"It makes me feel great because it always feels good to know that someone cares."

"I think it's really cool," said Shedden, who is finishing her fourth year as FIS computer science teacher. "We do so much every day for the kids. Our hearts are in it and everything, and it's really meaningful for somebody to adopt us and say, 'Hey, we appreciate what you're doing."

"I love it," Campbell said. "To have more than one forever home … it's fantastic.

"I feel very blessed," she added. "I love this community. I love these kids."

Allred said she adopted the three from FIS because "they provide such special service.

In addition, "They were my two boys' teachers when they were at Farragut Intermediate School, and I was also, for the last two years, the health clinic chair at Farragut Intermediate," she said. "So, even though my kids left Farragut Intermediate, I still stay there as the clinic chair.

"I'm excited to give them something special and make them feel appreciated for what they do for the kids," Allred added. "I think all three of these teachers go above and beyond just their normal classrooms.

"They care about the students, and even when the students aren't at that school, they still check in with them and see that they're on the right path with their education and life."

The adoptees are among approximately 20 Farragut schools' personnel recognized through a group, Knox County Schools Adopt a Teacher, Admin or School Staff Member, started April 29 by Amherst Elementary School parent Tonya Cambre, who is president of Amherst Elementary's Parent-Teacher Organization.

Cambre said she started the group to show their value.

"With my work with PTA, I get to interact with a lot of teachers and a lot of admin staff with Knox County," she said. "I know how hard they work for the kids, and I get to see a little piece of their hearts and how much they love our kids.

"Through everything we've been going through with the (COVID-19) virus, they continue to work and they continue to reach out to our kids," she added. "So, I just wanted to find a way to give back to them and love on them for a little while."

Cambre also is immediate past president of Knox County Council PTA and current East Tennessee Region director for Tennessee State PTA.

Since starting the group, she said, "It just kind of blown up. It's grown tremendously."

Starting the group two weeks ago, Cambre said, "Just within a few days … we went from a couple of members to now we are over 3,700 members."

"As of a few days ago, we had right at 500 teachers who were already adopted," Cambre added.

"We have a little over 25,000 posts, comments and interactions, and it's just been an outpouring of kindness," she said. "It's really been heartwarming to watch and see all the support that's coming from the community, even from one teacher to another, a school staff support person to another.

"It's been really special to watch," Cambre added.

Through the group, people — friends, family, co-workers and even neighbors have adopted teachers, who were nominated through a family member or friend or posts for t themselves.

Then, the adopter sends the adoptee a gift of appreciation.

"For the most part, it's someone in (the staff member's) community or their school," who initiate the adoption process, Camre said. "They're adopted rather quickly. We've seen go a couple minutes, some a little bit longer."

"We have about 20 from Farragut," she said as she looked the posts.

Shedden chose to adopt three from FIS — art teacher Christy Davis, computer science teacher and librarian.

She found out about the online group when she was invited on Facebook to join the group about two weeks ago.