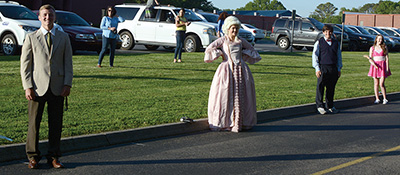 KNOXVILLE — It couldn't quite make up for a lost spring semester and canceled 2020 spring sports and performing arts seasons, thanks to COVID-19 of course, but high school students at Christian Academy of Knoxville in these programs were honored with an on-campus parade.

With a few dozen performing arts students and players from every Warrriors spring team sport lining both sides of Academy Way Saturday evening, May 2, they were greeted by well more than 100 vehicles, by estimate, filled mostly with families of these CAK spring performers — and some teachers — who began in the CAK Middle School parking lot and headed west, before looping back around and heading east.

While the 19-member Warrior Band played to kick things off, parade participants cheered and waved to pay tribute to those who lost practically an entire season.

"We wanted to do something for these athletes and we saw what other people and other places were doing around the country, and we wanted to do something like this for our kids," said Lori Asbury, board member of Warrior Athletic Club, event sponsor.

Included in what the school called a "Drive-Through Recogition" lasting about 40 minutes were large cut-out face posters of the players and performers, posters and other signage, blue cowbells, which school officials handed out prior to the parade, and balloons.

"We wanted to do something for these kids," said Reid Estus, CAK athletic director and girls soccer head coach (fall sport). "I love sports and I love the fine arts."

About those performers who are seniors, "these kids didn't get their final curtain," Estus said.

"Our performing arts students will now only get to audition for and perform in three plays now," he added.

Especially close to athletics, of course, "As an athletic director and a coach, I suffered a setback," Estus said. "We all suffered an emotional setback from this.

"We all look forward to going to the ballpark at 4 o'clock every afternoon to watch tennis, softball and all of those sports. This year, we couldn't do that," he added. "We wanted to invite all the athletes from all of our teams (including baseball, softball, boys soccer, track and field, tennis and lacrosse).

"They all lost a season, and now they'll only have three seasons. It's not like college. You can't go back and get another year. You can't redshirt."