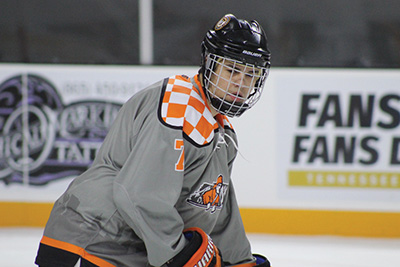 In his first full-time season playing college hockey, Tennessee Ice Vols player Josh Maine was named an Academic All-American.

Maine, a Farragut resident and junior defenseman for Tennessee, was one of five Ice Vols selected to the American College Hockey Association's Division 2 Academic All-American Team recently.

An industrial design major with hopes of someday designing athletic shoes and apparel or cars, Maine was home-schooled and played high school hockey in the Knoxville Amateur Hockey Association. He starred for the Knoxville Knights, a team that also included players from Hardin Valley among other area communities. With the Knights, Maine was coached by his father, Greg Maine, and played with his brothers.

Whlie Josh's siblings remain involved in the game, the Vols' "Maine" man said hockey — and sports in-general — always has been a family affair.

"Hockey has always brought our family together," he said. "And my dad always coached my teams in baseball, soccer or hockey.

"I always loved playing hockey with my brothers and sister, who now play hockey," Maine added.

An intense academic load and a job at Target in Turkey Creek kept the younger Maine from playing hockey for UT from the start.

He became a part-time player as a sophomore.

"I played off-and-on as a sophomore and I didn't play as a freshman," said Maine, who estimated his grade point average at 3.5. "It was a little hard to keep up in my classes and I have to have a job too.

"My grades are good. I think I have a 3.5 (GPA) right now."

The COVID-19 pandemic has had the same effect on Maine that it's had on other college student-athletes. He's finishing up the spring semester online and also will take summer classes remotely.

But he's hoping to be back on the ice when the 2020-21 ACHA and South Eastern Collegiate Conference season is slated to begin.

"I love playing hockey with my buddies from school and I love wearing the University of Tennessee's colors," Maine said.

Maine was selected to the ACHA Academic All-American Team along with fellow Ice Vols Drew King (a sophomore forward from Marietta, Georgia), Michael Garcia (a sophomore forward from Nashville), Andrew Hubert (a junior defenseman from the Washington, D.C. suburb of Haymarket, Virginia) and Ryan Seibert (a junior defenseman from Murfreesboro)

Maine also is one of several former KAHA high school league stars playing for Tennessee.

Kenny Richter and Ian Tulk played for the Farragut Ice Admirals while Joe Walker, Nathaniel Lamm, Pete Bunch and Justin Stackhouse played for the Bearden/Karns Ice Dawgs.

The one-time high school rivals now play together for the Ice Vols, the oldest college hockey team in the South. The Ice Vols were founded in 1966.