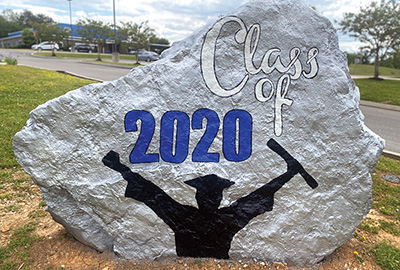 Knoxville Christian School's Class of 2020 High School Commencement ceremony, a virtual presentation, dubbed a "celebration," was held Saturday morning, May 9, for 18 graduating seniors.

The class is led by valedictorian William Cheng, salutatorian Tim Pham and dual enrollment valedictorian Jonathan Shelton.

"I consider the Knoxville Christian School virtual graduation a huge success," stated Robert W. "Bobby" Simpson, KCS president/head principal.

"The first 15-plus minutes was a prelude that began at 10:45 a.m., with the service beginning at 11 a.m. The Commencement was a mix of students, the KCS Knight Band playing the alma mater, along with faculty and staff participating," he added.

Abby Ham, WBIR-TV Channel 10 personality, was guest speaker.

"Once the ceremony was complete, students along with their families were encouraged to come in one vehicle to drive through and receive their diploma," Simpson stated. "The graduating seniors were surprised to see many faculty, friends and other students parked in the parking lot, honking horns, with signs affixed on their vehicles as the seniors drove through the diploma receiving line. All social distancing measures were in place for the entire parade time.

"This was obviously a very unusual year in terms of typical graduation protocol," he added. "However, all graduating students and their families were so supportive of the revised format for this year. ... Faculty and staff set a very high bar with the commencement production.

"It was encouraging to hear from many students of their appreciation to make this occasion so special," he added.

After passing through the parade, "Each senior family was able to have a portrait made by the Knoxville Christian School rock," Simpson stated.