All-Region 2-AAA, All-District 3-AAA standout to play in NCAA Division II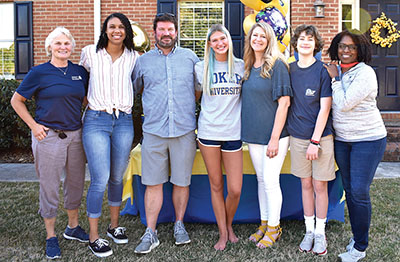 Farragut High School senior volleyball player Lauren Loveday has decided where she will continue her academic pursuits and volleyball career: Coker University in Hartsville, South Carolina.

Loveday was a standout outside hitter for the Lady Admirals in 2019, and led FHS to a Region 2-AAA championship. She was an All-District 3-AAA standout who also earned 3-AAA All-Tournament and Region 2-AAA All-Tournament honors.

Susan Davidson, former Farragut High School head coach, said Loveday found a great fit at the NCAA Division II school, which competes in the South Atlantic Conference along with Tusculum and Carson-Newman.

"They're happy to have her and she'll have a great career at Coker," said Davidson, who guided the Lady Admirals to a 22-17 record and a state sectional appearance in her final season as FHS coach in 2019. "She leads by example and she has great versatility.

"She gets it done on and off the court. She gets it done in the classroom too. She's won the TSSAA Academic Award for four years in a row."

Loveday, a four-year varsity player, was on the Lady Ads' last Class AAA state tournament team, which finished as state runner-up, in 2016.

"Lauren came in in 2016 and she was some of our young talent," Davidson said. "She saw some (playing) time at right side during her freshman year.

"Then as a sophomore, she played in the middle and on the right side," she added. "(In 2019), we primarily used here as an outside hitter, but we had a couple of rotations where we played her in other places on the floor."

Davidson said Loveday's presence was big both in the front and in the backcourt.

"She was always big for us up front," Davidson said. "But she had also become big for us with her backcourt play as her service game became more consistent.

"She could go on big runs for us and those runs were clutch," she added.

While Loveday had a stellar career on the volleyball court for Farragut, Davidson said she barely missed a last chance to go to Murfreesboro when the Lady Ads lost a five-set substate heartbreaker by two points against Daniel Boone.

"She knew how important it was for us to get back to state because she went during her freshman year," Davidson said. "She really wanted it."

Loveday committed to Coker earlier this month, and Davidson said her family had the signing ceremony in their yard with a few current and past teammates.