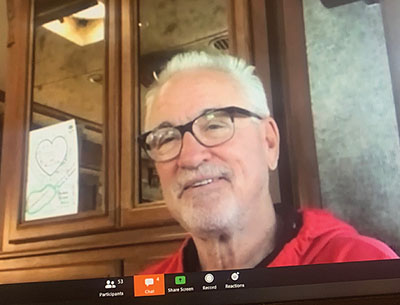 HARDIN VALLEY — Since the coronavirus pandemic ended school and spring sports for high school athletes, coaches and players have only been able to meet remotely — and Hardin Valley Academy's baseball team has been doing that.

But it can't make up for a lost season.

Area fields may be silent now as the season ended before it really got started, but that doesn't mean teams can't still make memories together. On Wednesday, May 6, HVA second-year head coach Tyler Roach had a surprise for his team at its Zoom online meeting.

When the team arrived, they got a visit from one of Major League Baseball's most successful managers.

Joe Maddon Jr., Los Angeles Angels skipper who, in 2016, led the Chicago Cubs to its first World Series win in 108 years, dropped in for a Zoom visit with the Hawks.

"We told the team that they were going to have a guest speaker and two weeks ago, we started giving clues," said Roach, who guided HVA to the 2019 Region 2-AAA championship. "But it wasn't until Joe popped up on the screen that they knew."

Maddon was hired by the Angels after the Cubs relieved him of his managerial duties following the 2019 season.

Having more time to visit after Spring Training, and the MLB season, was shut down in March, Maddon guided the Tampa Bay Rays to the 2008 World Series (lost to Philadelphia)and was a coach under Mike Scioscia when the Angels won their lone World Series in 2002.

"We were able to set up the meeting through the people at his (Respect 90) Foundation," said Roach, a Cubs fan who has a Joe Maddon Cubs jersey in his locker at HVA. "I figured that he wouldn't be as busy as he normally is, so I asked if we would be able to visit with us.

"He talked to us for an hour, and some of the stuff was pretty deep," Roach added. "We wanted to have our kids take their minds off of things and forget about the lost season. We also wanted to give the kids something to remember.

"You don't always remember your stats from your sophomore year or your batting average from your junior year. But you'll always remember getting to meet with a World Series manager."

Roach said Maddon was articulate and humble.

"Everything he says could be a slogan and could be put on a T-shirt," the HVA coach said. "For him to accomplish what he has, he's really down to earth."

Roach said his team will have more visitors and noted HVA Baseball will launch a podcast, "Unfinished Business," Monday, June 1.