Farragut resident a perfect match for 'E' Standifer; surgery is June 3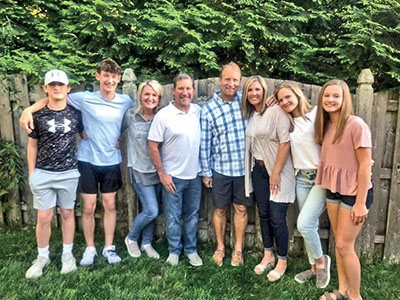 Farragut resident Tony Rogers is selflessly donating a kidney to a man he knew only in passing until just a few months ago.

Rogers is a perfect match for West Knox County resident English Standifer — better known as "E" — who went public earlier this year about his need and hope of finding a kidney donor.

The surgery is set for Wednesday, June 3 — and while the pair and their families will be entwined for the rest of their lives, they had been in each other's orbit for some time.

Both families' children attend Christian Academy of Knoxville: Tony's children with his wife, Monica Rogers, are Jake, Kate, and Caroline. E's sons, with wife, Missy Standifer, are Caleb and Noah.

The two men also knew of each other through their respective careers.

"Tony works for Kendall Electric, one of my company's equipment suppliers," said E, who is a long-time Mesa Engineering, Inc. employee.

"I didn't know Tony well, but we had crossed paths over the years in work settings, probably a couple times when his team would come to our office to showcase new products," he added.

Additionally, Rogers's wife, Monica, had worked at CAK as director of special events and had hand-picked Missy to be her replacement during the summer of 2019.

Monica was among those struck by E's story when she read it on social media.

E, diagnosed with focal segmental glomerulosclerosis as an adult, had hoped the disease could be managed "indefinitely," he said.

However, his kidney function instead began declining, and he was placed on the kidney transplant list more than a year ago.

Initially, he hoped for a cadaver donor and also resisted Missy's requests he go public with his need.

"I asked her not to," E said. "I wanted to wait for a deceased donor so no one would have to go through transplant surgery and give up an organ for me.  

"But, back in February my kidney function had dropped to 13 percent, and my doctor told me I needed to prepare for dialysis. I think it was that moment that the seriousness of my condition became real to me — hearing that news was enough for me to ask Missy to reach out for help on social media."

Monica was in tears as she read aloud Missy's post. Tony readily agreed to be tested even before he knew the intended recipient.

Then, seeing E's picture, Tony said, "I know him. I know him through Mesa."

It may have seemed off the cuff, but it was a thought that had been quietly ruminating in Tony's heart and mind for some time.

He said he was ready to make that kind of commitment for two reasons: first, he had been affected when a young girl was shot and killed during the 1999 Columbine School massacre for professing her Christian faith.

"That day I resolved to do the same thing — to profess my faith, and to grow in my relationship with Christ," he said.

A business client also had paved the way for Tony's decision.

"One of my customers works in Oak Ridge, but is a bi-vocational pastor in Grainger County and is a lineman by trade." Tony said. "He loves people, and donated a kidney last year to someone in his community who needed it. He had a heart for someone who needed help, and it just blew me away."

Tony started the testing process and was one of many who stepped up to offer the gift of life to E after his need became public.

"It's been an up and down journey," E said. "There were those who would pass the initial screening and call to share the good news, and then find out that they were not compatible due one biological marker or another." 

All testing has been done through the University of Tennessee Medical Center, where Ashley Dennis has been serving as E's Living Donor coordinator. It came down to Tony and one other donor, and each was fully vetted and evaluated by UTMC doctors and specialists.

"When Tony confirmed that he was a match, we were overjoyed," E said. "But, before we could schedule the surgery, the transplant center shut down for eight weeks due to the pandemic. 

"Despite all the ups and downs, we have held fast to our faith that the Lord's timing would be perfect and that I was safe in His hands. And, while we were met with disappointments along the way, it lifted my spirits to know that there were so many brave and selfless people willing to be tested."

Finally, Knox County Health Department unveiled its phased reopenings, allowing non-essential surgeries to resume as of Thursday, May 4, and both families met to share their joy.

"I don't think my children understood what this meant for E's family, and how big this gift is, until we all got together," Tony said. "My daughter overheard Missy telling me, 'You are my hero.

"It was so emotional, just to be part of that," he added. "Later, when we were back home, my oldest daughter, Kate, came and sat on my knee, and she said, 'You are my hero,' he emotionally recalled. "It has really brought us closer, too."

The families have gotten together a couple of times as the surgery date draws closer, and each knows they have made dear friends forever.

"Here, at the end of the process, as we look back it is clear to Missy and I that Tony was hand-picked by the Lord to be my kidney donor, and we couldn't be more thankful that it's him," E said. "He has never wavered, consistently checked in on me and kept us updated on where he was in the evaluation process."

E said he also is grateful to his employers with Mesa Associates, where he has worked for 18 years.

"They have been so understanding and supportive during this difficult time," he said. "They truly care about the well-being of their employees."

Additionally, both E and Missy hope their story will encourage others to consider the gift of living donations.

For more kidney donor information, contact Ashley Dennis at 865-305-5340 or e-mail at adennis@utmck.edu.