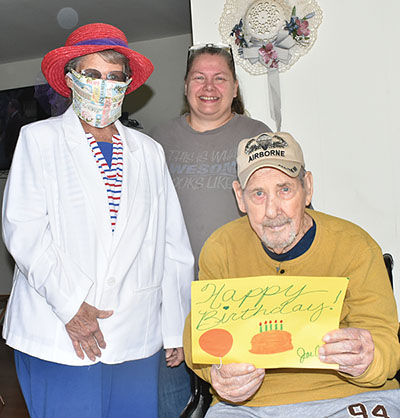 Two Farragut nonagenarians (age 90 and above) were surprised earlier this month with front-yard celebrations as they commemorated milestone birthdays.

Jean McFadden, who lives in Kingsgate, celebrated her 90th birthday Sunday, May 3.

Many of her family and friends, equipped with signs and balloons, threw her a front yard party on that sunny day.

"It was a surprise," said her son, Greg McFadden, who also lives in Kingsgate. "She cried. By the time it was over, there must have been around 100 people who came to wish her a happy birthday."

Jean's husband, Bill McFadden, passed away several years ago. In addition to Greg, she has four other children, 10 grandchildren and 15 great-grandchildren.

Just three days later, Floyd Cooper of Thornton Heights turned 95 on Wednesday, May 6. The World War II vet enjoyed a visit from his cousin, JoAnn Sims, also of Farragut, who had tried to plan a group celebration, which was thwarted by unseasonably cold weather.

Signs were placed in Floyd's yard, wishing him a happy birthday, and he waved an American Flag at friends who drove by.

Floyd, a Concord native, is the son of the late Minnie and Carl Cooper. Following the war, in which he was a paratrooper, Floyd moved to Florida, where he was a security guard. Later in life he came back to Farragut to take care of his mother and began painting for a living, his daughter, Melissa Cooper, said.

He and his late wife, Helen Marie Cooper, have four sons and three daughters. He also has 18 grandchildren and 26 great-grandchildren.