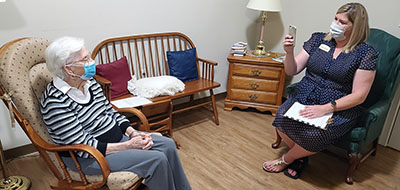 Residents of Morning Pointe of Knoxville, 9647 Westland Drive, recently sent Knox County high school seniors sage advice in a video, "Senior to Senior."

In the video, eight residents — John Butler, Charles Dempsey, Ginger Elting, Betty Newby, Evelyn Pollard, Dot Steele, Helen Stewart and JoAnn Swallom — offered kind words to Knox County's seniors still waiting to graduate.

"We just got together and did the video to congratulate the seniors," said Kari Christopher, MPK activities director.

On the Knox County Schools web page, school officials stated, "We're grateful for these 'Senior to Senior' words of wisdom and for their support of our students!"

On the video, Pollard shared:"I just wish you the best and hope that you will be very, very successful in whatever you decide to do with your life."

"I did manage to get through high school, although it was difficult," Dempsey said in the video. "When you graduate from school, you're going to know where you're going, but look ahead, work hard and you can succeed."

"Even though it was a stressful time, everything worked out," Butler said.