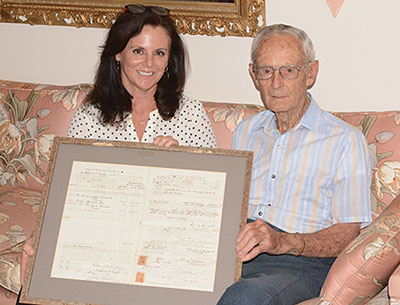 A military veteran wounded in battle serving his country in the Korean War, a highly respected furniture salesman of 52 years while able to mow his property into his 90s — from one of Farragut's most prominent families — has passed. Ben Boring, 91, died Friday, May 22.

"Called to into service for the Korean War, as a corporal in the 101st Airborne, Ben Boring went overseas and joined the 1st Calvary where he was wounded by friendly fire in Japan," his obituary read. "After three months of rehabilitation, he went to Korea participating in the mock invasion that helped end the Korean War. Ben has recalled he thought he would be part of the actual invasion until 24 hours before, and remembers thinking it would be his last day on earth."

The following is a tribute to Mr. Boring from Mona Smith, an active Farragut High School alumnae quite involved in keeping up with graduates of the FHS "Old School," those from 1976 and prior, about Mr. Boring's life, as sent to various FHS alumni. Mr. Boring was from the FHS Class of 1946.

• Friday, May 22, 2020, was a sad day in the lives of family and friends of Ben Boring, Class of 1946, as he peacefully transitioned to his heavenly home. Ben Boring was an exceptional man, loved by all. What a full, interesting life he led.

It seems that I have always known Mr. Ben and loved getting a "hello sweetie" and big hug from him. As far as I can remember, he has always been a well-known figure in the Concord/Farragut community and, after his elders had passed, he stepped into the role of patriarch of the Boring family.

When you read his obituary, you will find it touches on the exemplary life that he led. He was always active in his church and the community. And active he was. It seems it was only a month or so ago he was still mowing his beautiful yard and taking care of his horse.

The Boring family and their ties to Farragut High School are numerous. His siblings were the late William Ray (Buddy) Boring, Ross (Class of 1954), Kathlyn Boring Davis (Class of 1936) and Dixie Boring Cox (Class of 1937).

He leaves his children, Van Boring (Class of 1975), Brad Boring (Class of 1978) and Benna Kay Hughes (Class of 1981).

To his children, my heart is heavy with them during this hour.

I am thankful that they were able to bring their father home (along Boring Road) so that he could peacefully live out his last days looking from a bed thoughtfully placed in his living room, so that he could see his beautiful farm and the old home place where he was born. That is a comfort to many who loved him.

... Mr. Ben loved his horses and was very active in training and working with the American Saddlebred breed, often referred to as the "Horse America Made," which has descended from the time of the American Revolution.

So, in keeping with Mr. Ben's Christian faith and his love for horses, I feel it fitting to close with this verse from the Apostle Paul:

"I have fought the good fight, I have finished the race, I have kept the faith. Now there is in store for me the crown of righteousness, which the Lord, the righteous Judge, will award to me on that day — and not only to me, but also to all who have longed for his appearing." 2 Timothy 4:7-8

... Yes, Mr. Ben, you have fought the good fight.

We will miss you.

Thank you for your love and friendship and thank you for your service to our Country. You have finished the race. We take comfort in knowing you are receiving a well-deserved reward.