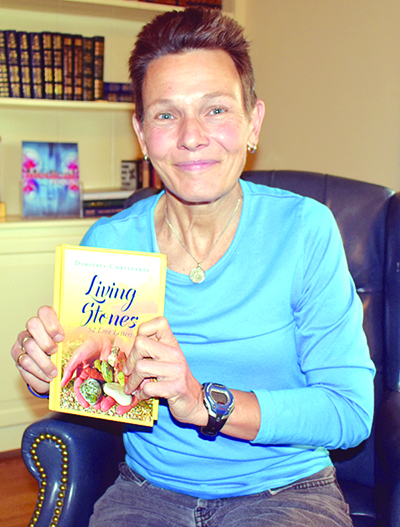 Anna Arapakos is sharing her faith through the written word yet again.

The long-time Farragut High School teacher, who wrote "Connecting the Dots: An Unanticipated Journey of Finding Faith" two years ago, recently released "Living Stones: 52 Love Letters," both under the pen name Dimitria Christakis.

The books are very different topically, as "Connecting the Dots" offered a logical approach to Christianity, while Arapakos's newest book is much more personal, offering up 52 different heart-felt letters she wrote to family members, friends and others who have made a profound impact on her life.

"I knew not even two weeks after completing 'Connecting the Dots' came out that I had so much more to do and say," said Arapakos, who retired last year after 30 years teaching Russian and English, but continues at FHS teaching English part-time.

Already a prolific writer, she was inspired through extensive e-mails she regularly wrote to family members and friends.

"A theme emerged of a deep need I have to share love," Arapakos said. "But, more than that is a need to show how others have left their footprints on my life."

She decided to write a letter a week for a year, and received permission from the recipients for inclusion in the book.

"Each letter reflects the sacred only, in that they only were written to reveal good, and were designed to bring out where (the recipients) shine," Arapakos said.

Arapakos said one of her main criteria was the person be alive.

"It was paramount to me that I be able to share with them what they have done for me," she said. "Some I may not be as close to, or it may seem they have not done much, but what they have done has been monumental to me.

"I tried to be intentional, and let them know how awesome they are, not just to me, but in general," Arapakos added.

She said initially "it was a challenge, wondering if I could write a letter a week for a year. Everyone has their own unique talents, but I know that Christ has made me an encourager, so ultimately, it was not a difficult task.

"I discovered you don't have to be a good writer, you just have to let your heart out," Arapakos added.

While the book is a "deeply personal one," she said it is not really a religious book, and believes it has across-the-board appeal to readers.

"Someone might wonder about reading about someone else that they don't even know, but they might know someone like the person I am writing to," she said.

"That is why I included an introduction to each person I wrote to. My goal is that the reader will find similarities and maybe be inspired to write their own letters."

"Living Stones" is available through Amazon and at Barnes & Noble Booksellers, where Arapakos hopes to hold a book signing later this fall.