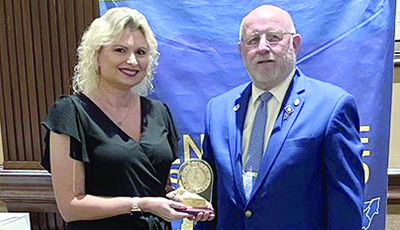 The Rotary Club of Farragut brought home 11 awards — highlighted by District 6780 Rotary Club of the Year — for its service to the community and Rotary International while attending the annual 6780 Awards ceremony in Crowne Plaza, downtown Knoxville, Saturday, July 18.

This was the first year the club has received the district Club of the Year award.

Staci Wilkerson, 2020-21 RCF past president, said it was one of four out of 67 clubs in the district to do so.

"It was a tremendous honor to accept the awards on behalf of our club," she stated, adding the awards were a result of the "hard work, commitment and dedication of our club and our members.

"I am very proud of our club's accomplishments and it was a true honor and privilege to be the president of the Rotary Club of Farragut during 2019-2020," she added.

Along that line, Rotarian Bill Nichols was "surprised with the John Germ Humanitarian Award for his tireless work with the district's Rotary Youth Exchange program," RCF public image chairman Tom King stated in RCF's weekly newsletter.

"Bill put in 1,574 volunteer hours this year for youth exchange, and I don't know what our Rotary Youth Exchange program would do without him," 2020-21 Past District Gov. Greg Maciolek stated. "You change kid's lives."

In accepting the award, Nichols stated, "These are my kids. I love them all and do everything I can to help them." Nichols is chairman of the D6780 Outbound RYE program but also works with the overall program. Maciolek pointed out Nichols even used his own credit card to help this past year's students get home in the midst of the COVID-19 pandemic.

King received the Lacy Bomar Award of Excellence for Best Electronic Club Bulletin — his 10th such award.

Other awards included: Rotary Citation with Three Presidential Distinctions, District Governor Citation, Super Star Club +6, Globe Club, Youth Event Service - Level 5, $250 Club (22 members), Polio Eradicator Club and Community Service Award.

Past president Bob Parker was recognized as a District Leadership Academy class graduate, while RCF member Tom Marsh was recognized for his hard work at the recent 6780 golf tourney for Polio Plus.