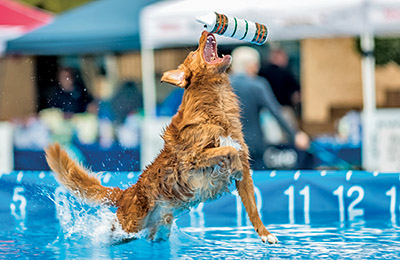 DOG DAZE IV @ Village Green Shopping Center is presented by TDS Telecom Friday, Aug. 14, through Sunday, Aug. 16. This three-day festival of fun, food and national competition is in Village Green Shopping Center parking lot just south of Stein Mart and Planet Fitness.

DOG DAZE IV is made possible through the leadership of Shop Farragut/Farragut Business Alliance and Town of Farragut official who have teamed up with Smoky Mountain Dock Dogs (http://www.smokymountaindockdogs.com/) and Ricki's Pet Depot (http://rickispetdepot.com/ ) to bring a nationally sanctioned regional canine aquatics competition by Dock Dogs International (http://dockdogs.com/), which is expected to feature about 150 competitors.

Big Air ompetitions Saturday run from 9 a.m. to past 5 p.m. Sunday's final round runs from 9 a.m. through Big Air Wave Speed Retrieve, which starts at 3 p.m. Big Air Finals begin at 5 p.m.

Marking its third annual visit to Farragut, Dog Daze in Farragut is even more important this year due to cancellations of so many springtime and early summer DockDog events. Registrants will be able to gain qualifying points toward attendance at the World Championships in October. Last year there were more than 30 competitors and more than 5,000 visitors during the event's second visit to Farragut. Festivities begins with a free "Pooch Plunge" Dock Dive for local and area dogs that are not competitors, underwritten by K9 Center of East Tennessee, on a first-come, first-served basis from 4 to 7 p.m., Aug. 14. Onsite registration begins at 3 p.m.

This event will utilizing the COVID-19-prevention guidelines: If you feel sick, stay home. Facemasks are encouraged throughout the venue and wherever it is not possible to social distance. Masks will be available onsite. Bring your own hand sanitizer. There will be hand washing stations provided. Food trucks and other vendors will be on hand. Smoky Mountain DockDogs also will conduct a silent auction, which will benefit the B.A.A.R.K. foundation, which helps the DockDogs community in its time of need. Learn more at http://www.dockdogs.com.