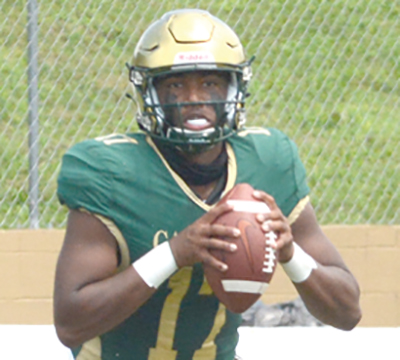 KNOXVILLE — Knoxville Catholic High School played football on the national stage Saturday, Aug. 29, when it hosted Trinity Christian-Cedar Hill from the Dallas Area on national TV.

And after hanging tough early, the Irish got a taste of just what Texas high school football is all about on a steamy afternoon at Blaine Stadium as they came up on the short end of a 49-14 decision against the Tigers.

Despite seeing his teams take a few lumps from a three-time defending state champion, KCHS head coach Steve Matthews remained upbeat.

"I just told the guys in the locker room that I'm as confident as I've ever been after a loss like this," Matthews said. "We didn't have any scrimmages and we didn't have a full camp. And I don't know if that would've made any difference because they're a better team than us right now in every facet of the game.

"We basically had two scrimmages. We did well and we won against Chuckey-Doak, but we didn't do so well here today," he added. "I think this is the best team that we'll see all year and they're definitely the biggest team that we'll see all year. They have a great team. We have a few things that we need to clean up, and if we can clean them up we'll be a pretty good football team this year. We were able to hang with these guys for a half."

The Irish (1-1) originally were supposed to travel last Saturday to play a game in Kentucky against Corbin. But that contest was scrapped due to the COVID-19 pandemic, which is preventing high school teams in the Bluegrass State from starting their seasons until at least Sept. 11.

The Tigers, now an independent high school team in Texas, had an opening and agreed to come to East Tennessee to tangle with the Irish on a game that was televised on ESPN.

It was clear from the outset that Trinity Christian (1-1) has a top team.

The Tigers, who feature Shadeur Sanders at quarterback (son of Pro Football Hall of Famer Deion Sanders, the team's offensive coordinator), jumped out to a 14-0 lead in the first quarter.

Shadeur Sanders, a Florida Atlantic University commitment, and Trinity got off to a fast start Saturday.

The Tigers took a 7-0 lead when Emari Matthews scored on a 5-yard touchdown run with 7 minutes, 48 seconds remaining in the opening frame.

Trinity extended its advantage to 14-0 when Sanders connected with Tyron Thompson on a scoring strike from 5 yards out.

But Catholic would battle back and pull even by midway through the second stanza.

The Irish cut the deficit in half when junior quarterback Kaden Martin (son of Tee Martin, former University of Tennessee national championship quarterback and current UT assistant head coach) scored on a 1-yard plunge with 9:52 remaining in the quarter.

Martin, who went 9-for-18 passing for 110 yards through the air, threw a 40-yard scoring strike to Samuel O'Leary to help the Irish pull even.

He also had 11 carries for minus-43 yards (including sacks).

From there, however, Trinity Christian would seize control of the game as it would score 35 unanswered points.

The Tigers regained the lead when Sanders, who finished 24-for-30 with 388 yards and three touchdown passes, scored on a 1-yard run. Overall he ran for two touchdowns in the game.

Sanders had a pair of touchdown tosses after halftime and had another scoring plunge to polish off the scoring.

Emari Matthews added another scoring run (7 yards) midway through the third quarter.

For Trinity Christian head coach Andre Hart, the game represented more than a victory.

"These guys on both teams helped everybody take a step forward," Hart said. "People need football and they need this."We gave people what they needed in times like this when you never know what might happen next," he added.

Meanwhile, the pandemic has forced the Irish to change their schedule again: KCHS has back-to-back open dates to begin September before McCallie comes to KCHS Sept. 18.