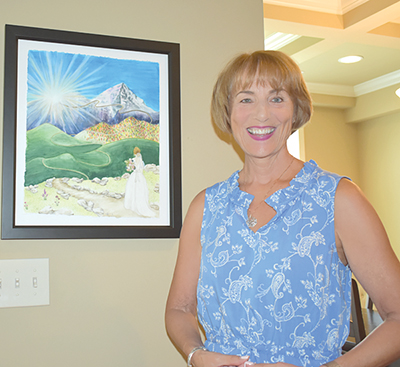 Karen Wiley endured a tragedy no one should have to face alone — and she didn't.

When her husband, David, suddenly committed suicide in 1994, she said the Lord was with her every step of the way, laying a foundation for a deeper connection to Him and enabling her to share her story with others. David also left behind children Andrea and Josh.

Wiley has written a book about her experience, "Becoming His Bride," which was published earlier this summer. Already word-of-mouth has seen it sell out at Cedar Springs Christian Bookstore (it has since been restocked), and she and her husband, Michael Young, are on their second set of print editions they are selling themselves.

Both Karen and David were runners, and Karen had gone for her morning run around 4:30 a.m. in the early days of the new school year, both being Knox County Schools teachers. As she returned home, "I heard, what I thought was a tree limb falling," she said.

But it was a gunshot — David had taken his life.

"I just never saw it coming," she said. "I didn't know what to do, so I called our pastor's wife and she let everyone know, and somehow my parents found out, and they and my sisters were there for me that very first night.

"God was there, too, helping me and carrying me every step," she added. "He spoke to me so clearly at my husband's funeral, and I had no intention of speaking, but He literally carried me to the front of the church and spoke through me to all the people who came."

While her family members left after Labor Day, Karen was not alone. She said the calming presence of the Lord "kept a smile on my face and joy in my heart," even as she began pouring out her anguish through her long-standing practice of writing to the Lord, a practice she began in 1971.

She filled books with her thoughts, her prayers and her petitions to God, and through it all, "In 1997, God told me to write this book. He told me He would teach me to be His bride, and that I would write a book about it," she said.

The idea fermented, even as Karen admits she resisted the idea for years, until God fulfilled another of His promises.

"He told me He would provide me with a husband who would love me," she said. "I never told anybody that, but I met Mike in 2016, at Fellowship Church and God spoke to both of us. He told Mike to speak to me, even though Mike said he was 'done with women' after losing two wives to cancer.

"For a month, He kept telling Mike to talk to me before he finally did," Karen added.

Even after Mike asked for Karen's number, she turned him down three times before she suggested they meet for dinner, and they have been together since, marrying in 2018.

"My life has been one miracle after another," she said.

It was Mike who encouraged Karen to finish the book God had laid on her heart to write two decades earlier.

"This book would never be on my living room table if it weren't for him," she said, noting Mike has been her cheerleader, encourager, public relations person and also helping publicize the book.

She culled down her writings to the three years following David's death, and the finished product is a love letter to him, as well as to the Lord.

"My prayer is that when reading my book, people will be able to look past their pain, and find the hope that God provides," Karen said.

"When they go through tragedy, or suffering or pain, they can find ways to cope through a relationship with Christ."

To purchase the book directly and for more information, visit Wiley's website, www.karenlundewiley.com.

The book is also available on Amazon.