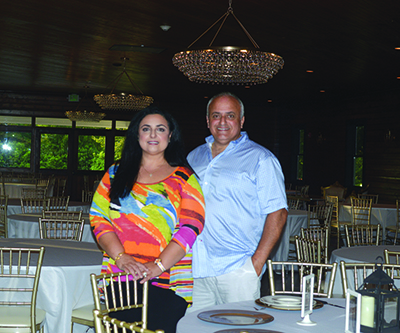 Saah Salon Suites Farragut owners Suzanne and Charlie Saah, longtime Knox County residents, are expanding their entrepreneurial dreams and purchased Hunter Valley Farms off Northshore Drive, rebranding it The Julianna, venue and events, to help make brides' dreams come true.

While only a short distance from Northshore Drive, The Julianna appears "worlds away" in a country setting with its open fields and woodlands, Suzanne observed.

"We bought the farm," she exclaimed, adding they named the 32-acre site at 9111 Hunter Valley Lane after their daughter. The Julianna is a family-owned and operated business with Julianna Saah and their daughters-in law, Jessica, Haley and Sandy Saah, as facility managers.

"We're going to make sure the bride and whomever else rents from this is going to have the vision that they've always dreamed of, and we're going to make that vision come true," Suzanne said. "We are people they can trust."

The Julianna will hold an open house Tuesday, Sept. 22, to view its features.

The Julianna used to be a family stables property.

"We saw this beautiful venue and renovated it," she said. "I'm excited about this."

The locale includes 6,500-square-foot stables, a ballroom with an indoor fireplace and chandeliers, a ceremony site, outdoor courtyard with a fireplace, a cocktail area, bridal suite, groom's lounge and a 2,000-square-foot farmhouse that sleeps 12.

There are packages with which people can rent out The Julianna for a weekend or perhaps longer for weddings, bridal showers, brunches, luncheons, rehearsal dinners, baby showers, birthday parties, anniversary celebrations and other special events.

"We had one bridal party that rented it for a week," Suzanne said, pointing out with out-of-town bridal parties and their guests, the farmhouse provides an extra convenience, she noted.

"This is a different kind of venue," she said. "The bride gets to pick everything."

The brides choose their caterers, flowers, music and all the other features for their special day.

"We want them to have her vision come alive," she added. "But if the bride needs help and guidance, we have a wonderful vendors list."

In addition to the beautiful grounds, complete with horses, the venue also offers tables, Chivari chairs and linens, Charlie said.

Hunter Valley Lane is located along Keller Bend Road off Northshore Drive.

To book an event or for more information, visit online at thejuliannavenue.com, e-mail to info@juliannavenue.com or call 865-705-5234. It also is available on Facebook.

The idea came about after the weddings of the Saahs' three sons. "I would love to do this … one day the heavens opened and God was listening …," Suzanne said.

So the Saahs decided, "Let's do our dream," she recalled.