In Ted's Image TN Walking horse adds 2 world crowns in Shelbyville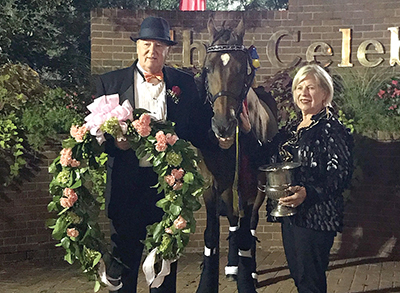 Rotary Club of Farragut member Ron Lawrence saw his Tennessee Walking show horse, In Ted's Image, go from a colt raised on his Loudon County farm to make history as a seven-time World Champion and first-time World Grand Champion at 82nd Annual Tennessee Walking Horse National Celebration in Shelbyville Friday, Sept. 4.

"Excitement and humbleness" were Lawrence's first thoughts when his horse was announced the winner.

"Never did I believe we could achieve this level," he stated in a Sunday, Sept. 6, e-mail. "In this breed, he has made history.

"I don't think there's been a horse that has won three blue (ribbons) and a World Grand Champion," Lawrence told fellow Rotarians during a virtual Sept. 9 RCF meeting.

"I feel good about this horse," he added. "He's a very exceptional horse."

In Ted's Image earned four trays and cups, three ribbons and one floral horseshoe that is only given to a World Grand Champion. All of his winnings were from the fine harness division, said Lawrence, who grew up in Farragut and graduated from Farragut High School.

"I drove him on Monday (Aug. 31 in the fine harness buggy)," he stated in the e-mail. "Bill Callaway (the trainer) rode him on Wednesday, Sept. 2, and me … in the world championship class on Friday (Sept 4)."

Lawrence said he plans to continue showing In Ted's Image in fine harness and under saddle, as well as any exhibitions that might become available.

During an earlier interview, he explained this celebration is an annual show that has been taking place since 1939, and is the "Super Bowl" for walking horses from roughly 40 states, including all across the Southeast and Southwest.

For Lawrence, the horse was special from birth, having been conceived from a retired world champion mare and a World Grand Champion bay horse.

"I raised him on this little farm in Loudon County," he said. "He's the most beautiful horse ever.

"I started him in training with Callaway Stables (in Shelbyville), where he is today," Lawrence added.

"They have been patient in his development. Thank goodness."

He has been raising Tennessee Walking Horses for 27 years.

"My wife, Carolyn, got me started into walking horses before we were married," Lawrence said. "She took me to this walking horse celebration (show), and I saw these big, beautiful show horses — some were under saddle — and I saw them on the last championship night. That's the absolutely best horses.

"I'm an animal lover, and I saw these horses, and I just fell in love with them," he recalled. "I thought to myself, and I probably told (Carolyn), I've got to get me one of these.

"By the next year, we were married and we bought our first walking horse. It was a mare, My Fair Lady's Delight. That was in '93," Lawrence said.

While the horse looked promising, the mare didn't live up to her potential, so by the next year, the Lawrences purchased another horse.

"He was a really good horse," he said. "I didn't win any ribbons or anything at the celebration, but I've been showing (horses) at the celebration since 1993.

"I guess it was some time in the late 1990s or early 2000s, I had several brood mares and I was breeding a lot of mares to get colts.

"I didn't raise them to make money," Lawrence said. "I enjoyed handling them and fooling with them, and it was just to be involved with horses, but when I started losing more money than I could afford to lose, I started selling some of the brood mares.

"I ended up with six on our farm, and one of those just happened to be a retired world champion mare that I had won a world champion," he said. "Her name was Jen's Picture Perfect She became the dam (mother) of his winning horse, In Ted's Image.

When Jen's Picture Perfect died March 2019, she was buried with a marker on the Lawrence's farm.

"She was a special horse," Lawrence said.

There's a story behind the name In Ted's Image.

"His sire (father) was a world grand champion horse named Ted Williams," Lawrence noted. "You have six months to register (colts) without penalty.

"I kept thinking 'what do I name him?' I couldn't come up with a name," he recalled. "But one Sunday, we were sitting in church and I was l listening to the preacher, and the preacher said, 'In my Father's image.'

"And the name hit me that my Ted is 'In Ted's Image,'" Lawrence said. "Like his daddy, he was a bay horse, and as you can see, my Ted is a beautiful bay."

He explained a bay, while not totally black, is black from the bottom half of all four legs, as well as its mane and tail.

In Ted's Image is "equally good at pulling fine harness and under saddle, Lawrence said.

"I've won several shows with him under saddle," he said of his winning horse. "He's 11 years old this year.

"I was not able to show him until he was about 3 years old because I just didn't have the know-how to ride him … It took me that long to get accustomed to him, but, since he was a 3-year-old, I've won several shows with him under saddle."

However, at the celebrations, Lawrence observed, "In Ted's Image) seems to be really the best horse pulling the fine harness buggy."

Lawrence currently has two show horses, which stay at a Shelbyville location, along with three retired show mares at his Loudon County farm.