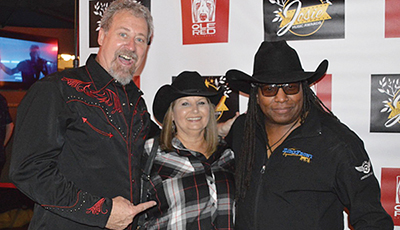 Sedgefield subdivision resident David Passmore recently earned international Josie Music Awards for his lyrics to two songs.

He accepted those awards — Outlaw Song of the Year for "Muddy Water," which he collaborated with Nashville singer/songwriter Dee Rock and songwriter Connie Cassell Tuck, and Holiday Song of the Year for "Christmas Changes Everything," which was sung by Jennifer Bone, while Passmore collaborated with Bone and Tuck — during the 6th Annual Josie Music Awards ceremonies in Country Tonite Theater in the Dollywood Theme Park, Pigeon Forge, Friday through Sunday, Sept. 4-6.

"I cried," Passmore recalled. "As I walked down to the stage, I cried. It almost leaves you speechless."

On his Facebook page, he stated he was "honored and blessed" to receive the awards.

"I am still on cloud nine."

Passmore said he hopes to make an impact with his songs, such as "Christmas Changes Everything," and "Muddy Water."

The Josie Music Awards is a global independent, all-genre music award show ceremony started in 2015, according to its website. Passmore's songs were among more than 30,000 overall song submissions in those awards, he said.

Managing Jones Automotive is Passmore's day job, but his dream and hobby is writing songs.

"I've always written poetry, and I started out with a Facebook post about the (2016) Gatlinburg wildfires," he said. "I wrote a poem, 'Mountain Strong,' that was a Facebook post, and a songwriter friend of mine, Connie Tuck, said, 'we could make this into a song.'

"We worked on the lyrics, and I contacted a Nashville musician/singer/songwriter/composer/producer that I'm a friend with, Dee Rock," Passmore said. "I essentially told him my crazy idea, and he made the song come to life."

They submitted that song as an entry in the Josie Music Awards in 2017, and it won that year for the folk Americana genre.

"That was the start," Passmore said. His next wins came about three years later.

He met singer/songwriter Jennifer Bone of Colorado at the 2019 Josie Music Awards, and they decided to collaborate with Tuck and Bone on "Christmas Changes Everything."

Last year also is when Passmore collaborated on "Muddy Water" with Tuck and Rock.

Passmore came to Farragut in 2006, when his cousin suggested the Knoxville/Knox County area as a nice place to live.

"I just had this concept buzzing around in my head," Passmore said.

The song marries the Delta blues, a little bit of country, soul and even a little bluegrass with lyrics about leaving the turmoil and evils of the world and returning to one's "roots of God and family." Passmore said the "muddy water" refers to the Delta waters.

While the world jades, he said,"We wanted a song that identifies with that but also give us hope that the muddy water would wash our spirits clean," he said. "We wanted to write a Christian song that was different."

"I love the area and I was looking for a place to move out of South Florida," he recalled. "My cousins played football at (the University of Tennessee), and they recommended I give Knoxville a shot.

"I came here and I fell in love with the place."

Passmore is the father of Chesea, Charlotte and Forrest and grandfather of Maddie Kay.

"My family and community have been very supportive," he said. Along with songs, Passmore also writes custom wedding ceremonies and performs.