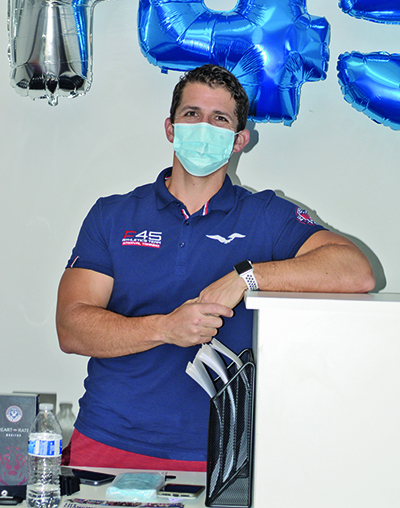 West Knoxville's newest franchise, F45 Training at 9405 S. Northshore Drive, held its grand opening Saturday, Sept. 19.

Built during the March quarantine, F45 launched successfully "during the strangest times in recent history," owner/operator Chip Gibson said.

F45 Training, of which F45 stands for functional fitness 45 minutes, provides a different experience in circuit training with COVID-19 restrictions in mind.

"With exception of (Saturdays), they are all 45-miniute classes," he said. On Saturdays, F45 offers a 60-minute hybrid workout.

Stations are spaced apart, everyone gets a temperature check as he or she walks in the door, and Gibson said a cleaning protocol is in place to keep the areas disinfected.

Additionally, "F45 has created a non-shared equipment solution for in-studio workouts to comply with the strict reopening guidelines of some governments," Gibson said. "This programming will use the majority of the equipment, but members will be assigned to a fixed station for the entire workout to help maintain social distancing guidelines and eliminate person-to-person contact and sharing of equipment."

He added the equipment is disinfected after every class.

The training is flexible to accommodate everyone, regardless of his or her abilities, Gibson said.

"Our adjusted workouts can accommodate 18 members," he added. "Each member should be allocated a workout space of 6 feet by 6 feet.

"F45 provides an ultimate modern gym experience by combining cutting-edge techniques with high-grade equipment and friendly, educated, supportive staff."

He has six trainers, half of whom have college degrees in physiology, and all are certified.

The gym training includes three days a week of strength resistance-based training and three days that are cardio based.

Located next to Anaba on the hill behind Dunkin Donuts, Gibson said the gym is "super convenient for many in the West Knoxville area, as it's .5 mile off of Pellissippi Parkway."

Gibson graduated with a degree in exercise physiology, working his way up at a couple of gyms before finding the F45 Training franchise. With an MBA in healthcare, he also worked in the healthcare field.

Encouraged by other business owners, he decided to open his own business.

"I went with a franchise," he said. "It's just a safer business model. Then, I found this company. Love it.

"I just wanted to bring something that wasn't in Knoxville, something I could see myself doing every day," he added.

A former college football player who suffered many injuries, Gibson said he understands the difficulties some have with exercise and have worked with people who have limitations.

"I want to help as many people as possible," he said. "The highly efficient and effective sessions are designed to help customers of all ages and fitness levels improve their health, lifestyle and well-being."

Whether a client has limitations or is an athlete, Gibson said, "Our goal is to motivate you during a tough workout while evaluating your physical and emotional needs in order to help you reach your exercise and wellness goals.

"We know how to best establish a healthy client-trainer relationship to have fun and help you reach your potential," he added. "But if you want to get in and out, no frills, that's fine, too."

The gym is open from 5:15 a.m. to 7:30 p.m. Monday through Friday; from 8 a.m. to noon on Saturdays; and one class at 10 a.m. on Sundays.

Appointments can be booked at f45training.com. For more information, call 865-498-3136.