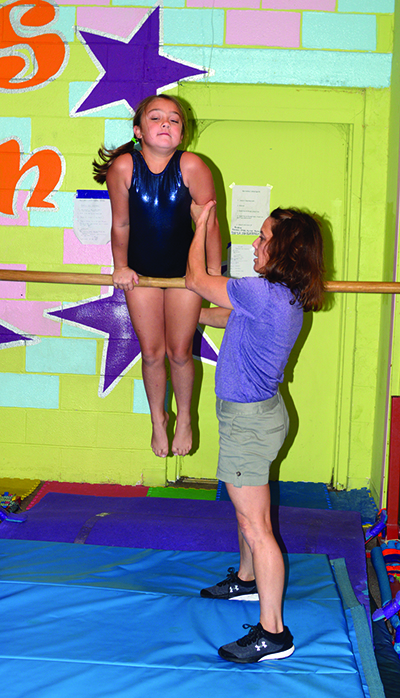 Heidi's Musical Gymnastics, also known as Heidi's Gym at 159 West End Ave. — a gymnastics studio in operation for 25 years in Farragut — is seeking community support to help her students train in competitive gymnastics.

Heidi De La Rocha, owner, curriculum director and teacher, recently started a Pay Pal on her website to receive donations that would help her purchase used uneven bars, so her students can do competitive gymnastics.

While the gym has been non-competitive for 20 years, she started offering a competitive program last year.

De La Rocha noted the students did well last year, but the season was cut short this year because of the pandemic.

To train for future competitive events, though, "the girls desperately need competitive uneven bars," she said.

"If people go to heidismusicalgym.com, there's a Pay Pal, (where) they can (donate)," De La Rocha added.

The used bars and mats package would cost $3,250 while a new mat and bars together would cost "well over $5,000," De La Rocha said.

With the pandemic, she said, "It's been very difficult to do any type of fundraiser."

"I feel we should rally together as a community and keep her doors open," said Paula Kerr, who has two daughters enrolled in the gym.

Like many gymnastic studios and fitness centers, De La Rocha has seen her share of hardships during the COVID pandemic.

"It's been brutal," she said. "As a small-run business, we just teach one class at a time, and our prices are very reasonable.

"So, when (COVID) happened, for a lot of gyms, it was very difficult," De La Rocha added. "We were closed for two months.

"We did Zoom, but there weren't a whole lot of kids who were doing that. We're probably down (in enrollment by 40 to 45 percent.

Being "very scared," De La Rocha recalled, "I told my husband we might have to close, but he said to trust God and it was going to be OK.

"It's a little bit better, but it's still not what it was," she added. "We're just trying to do the best we can by providing the service we do in a clean and healthy environment."

Still, "She's struggling financially," Kerr said. "As a parent, I really, really don't want her gym to close."

The pandemic also was brutal emotionally for De La Rocha.

"This — teaching kids — has been my whole life, teaching the heart of gymnastics and creativity of gymnastics, reaching for a goal," she said. "So when you think your business is in jeopardy, you're not going to be able to do what you love … that's pretty devastating."

De La Rocha said Heidi's Gym provides a nurturing, positive way to train students in gymnastics.

"I know every parent by name and every child by name," she noted. "I never want to lose that."

A gymnast since she was 12, De La Rocha attained a Level 10, the second highest level in gymnastics.

De La Rocha and husband, Ashley, started Heidi's Musical Gym 21 years ago to provide a creative enrichment program for students from 18 months

to 13 years old using music and movement to develop physical, emotional and social skills

in a nurturing, no-pressure

environment.

"For the first 12 years, I did it on my own, coaching by myself," she recalled. "Then, my daughter, Savannah (De La Rocha), has been coaching with me for about 10 years."

The gym is open from 9:30 to 8 p.m., Mondays; from 10 a.m. to 7 p.m., Tuesdays; from 10 a.m. to 6 p.m., Wednesdays; from 9 a.m. to 7:30 p.m., Thursdays; from 9:30 a.m. to 7 p.m. Fridays; from noon to 3 p.m., Saturdays; and closed Sundays.

For more information, call 865-671-4116.