Wanting to sing, HVA choir has solution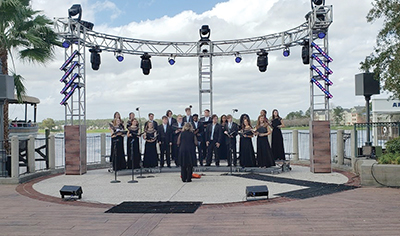 Hardin Valley Academy fine arts music teacher Teresa Scoggins is reaching out to the community to raise money to let her choir students sing.

"I opened a DonorsChoose (online account)," Scoggins said. "It is for super-sized wedding tents to put outside so we can sing."

Scoggins is looking to purchase three Ergodyne SHAX 6000 10-by-10 foot heavy-duty commercial pop-up tents.

"Basically, research has said it's not safe to sing inside for more than 30 minutes," she said. By doing so, "you have to have a 20-minute span afterward to clear the room (of aerosols), which, obviously, is not possible.

"The research says you can sing outside for 30 minutes, but you only need five minutes of clear space — with nobody there — so the aerosols (from the mouth) can diminish or go away.

"We still stand socially distanced, and we still wear masks, but the aerosols that come through the mask are gone a lot quicker outside," she added.

"When all of this (COVID) started, we were all just really sad because we couldn't do our musical, we couldn't do our end-of-the-year concert. It was like everything came to a screeching halt. As I was watching the research come out … it became evident that outside was safer, so I had started thinking."

She remembered the grassy space outside of her classroom. Then she started looking at cover and started looking for the tents.

"I knew that we needed to sing together for as long as we could," Scoggins said.

With that, she also is seeking donations for a portable sound system.

"Talking through a mask so everybody can hear you — even inside (the school — is difficult, especially at the end of the day, so I'm trying to get a little help there," Scoggins said.

Total cost of the tents and sound system combined is $1,300. While she has $650 toward the purchase, Scoggins said she still needs $650 more.

With DonorsChoose, "you come up with a project that you need, and they walk you through," she said. "It's kind of like a grant-writing thing … Anybody can go up there and donate. Our project is called 'Let them sing.'"

People can go to donorschoose.com and "it walks you through how you can do it, and it's a tax-deductible donation," Scoggins said.

"I'm trying to think outside the box," she added. "A lot of my kids wanted to come to school, rather than do it virtually, because of choir. It's something that they love to do."

However, "what's the point if they're just sitting there doing bookwork," Scoggins added. "That's not necessarily why they come to my class or why we are together.

"Music is a great way to build community and confidence, and we're like a family," she added. "It's been really difficult for us not to be around each other.