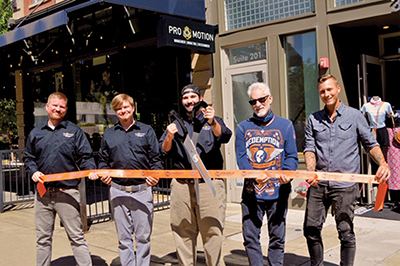 James Gilley, Class of 2011 Farragut High School graduate, 28, opened his second ProMotion LLC. location — a marketing and management agency specializing in the music industry and corporate marketing — in downtown Knoxville that already is "exploding."

"I never would have thought in a million years that ProMotion LLC would have a place on Market Square (downtown Knoxville) and in Nashville on Music Row," he said. "It's crazy."

Gilley, president and senior executive producer, celebrated a grand opening and ribbon cutting at 34 Market Square, Monday, Sept. 21.

The company provides artist development, but it also focuses on developing businesses, using "high-quality content and push-through social media to gain musician followers and subscribers and for businesses to gain new clientele," Gilley said.

"Everything is about exposure these days," he added. "We figured out a method that really works well.


"We provide videography — live sessions, music videos, promo videos, live show filmings, social media management, web development, graphic design, wedding services - photography, videography, bands, DJ and lights.


And from a business standpoint, he said ProMotion can provide product commercials, e-commercials for television, audio recordings, voice-overs — most anything to do with recording audio and video and social media management. 



"And, the best thing is it's affordable," he said. "We have learned a way to put it on a monthly budget with a non-exclusive contract to run for a year plus.

"At the end of the day, I want to help people," he added. "I want to be able to help musicians get exposure, help businesses get new clientele." 



The business also serves as a booking agent for musicians, booking East Tennessee venues such as Knoxville, Maryville, Pigeon Forge and Gatlinburg as well as Nashville and the Southeast, which also include Florida and Louisiana — even Cincinnati.

"We're all kind of spread out everywhere now," said Gilley. a Maryville College graduate. "We try to provide a high-quality service that really is affordable for someone (everyone) … that no one else can compete with," he said.

This is Gilley's second location for his business. He started ProMotion in his home in January 2018, then opened his first brick-and-mortar location on Music Row in Nashville in Dec 2019 before expanding with his downtown location this year.

"We're the only artist development company east of Nashville that does it at the level we're at, and it shows." 



Gilley can be reached 24/7 at 865-898-6018, jamesgilley.promotion@gmail.com and at www.promotionmngt.com


He also has one on Music Row at 707 18th Ave., Nashville.

His interest in music started when he took drumming lessons when he was 7 and has been playing the drums ever since, most recently with the band, The Ville.