Vendor variety, entertainment bring about 7,000 to first Fall Fest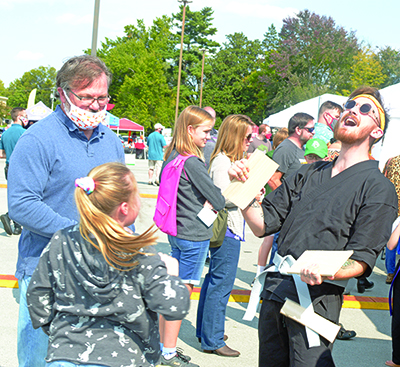 A beautiful fall day welcomed vendors and attendees to Shop Farragut/Farragut Business Alliance's inaugural Farragut Fall Festival, presented by SouthEast Bank, at the former Kroger parking lot along Kingston Pike Sunday, Oct. 4.

"I guess it was a perfect day, and I want to thank the good Lord for such wonderful weather," said Stephen Krempasky, executive director of the Alliance.

A departure from Shop Farragut's previous Farragut Food and Wine Festival, this year's event provided more entertainment and more vendors across the board.

Krempasky estimated the crowd at 7,000 for the five-hour mid-afternoon-to-evening event, which included 49 vendors and four bands to entertain the crowd.

At the festival, he overheard people commenting: "These bands are awesome."  "I didn't know we had such great local talent." "Those kids can play."

"The musicians could not thank me enough for the opportunity to get out in front of an audience and perform," Krempasky added. "Guests were delighted to have something to go out to and showed their appreciation by making it a huge day for the merchants."

"It's nice to be outside and be with family. It feels like a little normal is going on," attendee Sharon Nicole said.

"It's a nice event to come out and walk around," Farragut resident Tommy Yarber said.

Randal Powell of Roane County stopped by after church to support one of the vendors, Mucho Gusto.

"It's our first time here," Tambra Powell said. "It's great. I'm looking forward to coming back."

Likewise, vendors expressed their enjoyment of the event, and Krempasky said two food vendors sold out before 6:30 p.m.

"Steve, just wanted to say thank 'u' for an awesome day today," Joy Thornton, a jewelry vendor, texted to Krempasky. "'U' worked 'ur' butt off."

"This was the best show of the year for us," Sheri Debucero, Sheraphy Sugar Therapy, texted to him.

"Thank you, Shop Farragut," texted Ken Bagdon, co-owner of the Farragut Table.

"I think it's a great way for the community to get together," said Brenda Starnes with Freedom House Church (along Lovell Road).