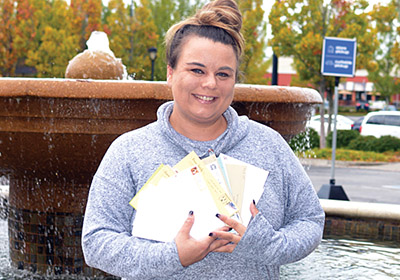 With her own grandparents in mind, Pinnacle at Turkey Creek's director of security Ashley Lynch started a program that invites the community to participate in Send Senior Citizens Love.

People can send in letters that go to seniors in nursing homes, offering encouragement and affection to those struggling from the isolation created by the pandemic.

That project, which started April 10 at the onset of COVID-19, has now gone nationwide.

"It's a great thing and I love it," Lynch said.

National media also has taken notice. Two weeks ago, she not only was recently invited on Returning the Favor podcast series of Mike Rowe, a TV host and narrator, she also received $10,000 from Rowe to continue the project.

"It was a crazy experience, but I'd do it over again. It was great," Lynch said. "I loved it. I learned so much.

"This whole thing has taught me so much," she added. "A lot of people have reached out and they relate — they've lost their grandmother, grandfather and they want to take care of the elderly also.

"It means the world to me, actually, to see people smile, to remind people that they're not forgotten, to be creative and create these things these people are getting."

Although her grandparents died in 2019, Lynch remembered when she visited them in the nursing home, "A lot of people that didn't have family. They didn't get the interaction, and when COVID hit nobody was getting the interaction.

"I wanted to think of a safe way for them to be able to know they are not forgotten," she added.

Lynch not only distributes the letters, she writes letters herself, "probably 30 a week. If not that, it's creating cute little Halloween cards or seasonal cards.

"And Kris (Brinkmeier, marketing director) for Home Instead does letters also and does cute little designs on the envelope," she added.

Lynch said Send Senior Citizens Love actually is "going really well. A lot of our community has helped out, sending in letters, dropping them off. There're people who are regulars when it comes to sending letters."

While many are local residents, Lynch noted since April, "I've probably had (people from) 20 different states send in letters. And, I've sent letters to nursing homes in Washington, (D.C.); Greeneville, Tennessee; Texas; and I'm working on expanding even more."

She estimates at least 1,000 letters have gone to seniors since last April.

While Lynch does most of the work, she said Home Instead Inc. has helped her, getting her started with local nursing homes, and Karen Tindal, Town of Farragut Tourism coordinator, has been part of the project as well.

She said local residents can stop by the little mailbox next to Flemings Steak House and drop off letters or bring them to Lynch's office next to The Bed Store. Letters also can be mailed to 11251 Parkside Drive, Knoxville, TN 37934.