Frosh, N-Merit Semifinalist pace Lady Warriors to 4th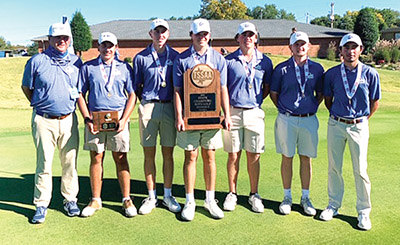 MANCHESTER — Led by what head coach Donnie Cooper said "is one of the top three juniors in the state," his No. 1 golfer Kaleb Wilson, Christian Academy of Knoxville's boys golf team once again reigned supreme at Division II Class A State Tournament at WillowBrook Golf Club last week.

Winning state for the second consecutive season, this year behind Wilson's medalist effort of 2-under par for 36 holes Monday and Tuesday, Oct. 12-13, the Warriors' two-day, four-player total of 604 (+28) was 23 strokes better than runner-up Evangelical Christian School of metro Memphis (627, +51).

About keys to Wilson's success, "He doesn't let outside factors affect him," Cooper said. "He doesn't let his emotions dictate his next shot."

While the greens at WillowBrook went from firm to much softer between CAK's practice round there Friday, Oct. 9, and first round play Oct. 12 — thanks to abundant rain — Wilson "never uses anything as an excuse," the Warriors coach added. "He's mentally tough."

But that toughness — at least in terms of adjusting to a wet and much slower course — extended to the whole team.

"We handled it really well," Cooper said.

Overall, "I've had a really good group of seniors that were really good leaders," the coach said of John Meadows (who tied for 11th-place individually) Cade Nichols and Wes Rodriquez.

"And I've got a really good group of juniors," who also included Jackson Hughey (fourth-place individually at +4) and Ben Johnston (who tied for 18th place).

About Hughey's high-risk/high-reward style of play, Cooper said, "Jackson hits it a long way and he plays a little different game."

Following his Oct. 12 opening 18 holes, "I think he only made six pars, but shot 1-under," the coach said.

Regardless of his score, "He always comes back," Cooper added about Hughey. "He's always confident he can make birdies to gain shots."

While Meadows "played pretty good in the state tournament" according to his CAK coach, "His leadership was the key to our success."

Johnston "played pretty good the first day," Cooper said.

With Nichols and Rodriquez contributing, "Cade's (score) counted the last day," the coach said about the senior.

Webb School of Knoxville, led by Reese Britt's third-place individual finish (+2), placed third as a team (630, +54).

CAK girls fourth

Meanwhile on the girls' side, CAK's tandem of freshman Malerie Taylor, district and region medalist who finished 12th (+24) individually, and senior Allie Cooper claiming 14th-place (+29), finished fourth as a team (343, +53).

"She really came on strong at the end of the year," coach Cooper said of Taylor.

His senior girl golfer, who also is the coach's daughter, "Shot 40 on her last nine holes as a high school golfer," the proud father said. "She was happy with that."

Allie Cooper also is one of just 16,000 students nationwide, among more than 1.5 million to take the Preliminary SAT/National Merit Scholarship Qualifying Test, to be named a National Merit Semifinalist.

Webb's sixth-place team finish was led by Palmer Sykes (18th) and Lauren Turner (20th).