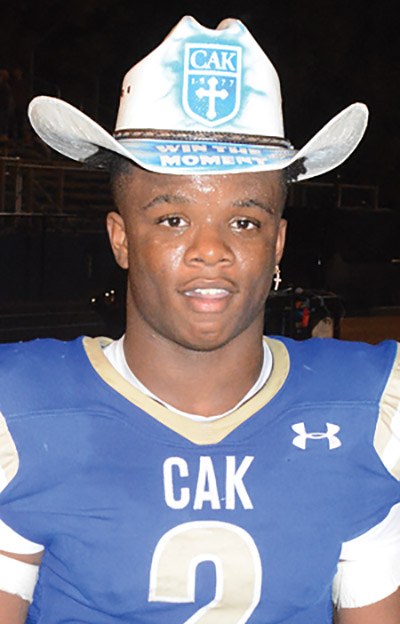 Getting it "Dunn" with Christian Academy of Knoxville high school football for the ninth time, without fail, in 2020 featured an added cowboy element on the CAK sideline last Friday night.

The cream-colored cowboy hat enscribed "WIN THE MOMENT often was worn on the sideline by JD Dunn Jr. — electric junior running back who rushed 35 times for 305 yards and four touchdowns while breaking numerous tackles for long yardage.

He and other Warriors could be seen wearing the cowboy hat on the sideline during an eventual 48-21 victory against region rival Grace Christian Academy to go 9-0, 5-0 in Division II-AA East Region play.

"Basically, if you score a touchdown or make a big play, you get to wear the cowboy hat," Dunn said.

"We just started that this week," said Grant Sterchi, CAK junior wide receiver who caught six passes for 81 yards, about this new tradition. "Miami (Hurricanes have) 'The Chain,' so we've got our cowboy hat."

As for Dunn's success, "My line got it done; I couldn't have got it done without them," he said. "(The coaches said) 'trust your blockers,' I trusted them.

"My quarterback, he caught on fire," Dunn added.

"I think Ryan Degges did a great job tonight just finding the open guy and making good reads. That really helped take the pressure off J.D. and the offensive line, making those plays down the field," Sterchi said about his senior quarterback, who completed 14-of-20 passes for 201 yards and two touchdown tosses to senior receiver Caleb Sparkman. Degges also had a 5-yard rushing TD.

"We count on J.D. Dunn a lot to run the ball and make those plays for us," Sterchi added. "It takes a lot of pressure off our receiving corps."

"He gets a lot of yards after contact. … We run him between the tackles," CAK head coach Travis Mozingo said. "… He'll take a hit, he'll spin; never gives defenders a full shot.

"With our O-line, we were able to pass block, run block," Degges said. "They were opening up holes, keeping the pocket. It was really easy for us."

While Thomas Simpson passed to Lane Roberts on a 2-point conversion, Warriors kicker Ross Badgett converted four extra points.

Defensively, "Everybody did what they were supposed to do," said linebacker Chi McNeil-Harrison, who had an interception. Cornerback Kanye Harris also picked a pass.

Cornerback JD Presley led CAK in tackles with seven solo (nine total). Linebacker Luke Myers added seven, four solo

"Up front I think our rushmen did a great job pressuring the quarterback just enough to get him uneasy back there," Mozingo said. "Our linebacking corps picked up some of that slack" when scrambling "I'm proud of our secondary."

The Rams fell to 7-2, 3-2.