SDS finds new home at Franklin Square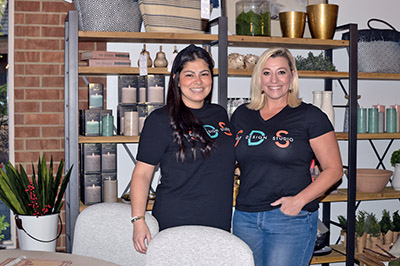 Shae Design Studio, a full-scale interior design firm, has a new location at 9700 Kingston Pike Suite 11 in Franklin Square, giving her a more intimate space to serve her clients.

However, SDS's boutique, Southern Style Market, recently rebranded to Willow Mae, still is located at 10420 Kingston Pike in Lovell Heights shopping center.

The firm moved to Franklin Square the last week in August.

"We love it," owner Shae Seeber said about the Franklin Square locale. "It gives us a really intimate space and allows us not to overwhelm the clients."

She said the move was made "to put our focus on interior design projects, renovation design, 3-D plans and renderings and helping our clients achieve the look that they want for their space."

Seeber's previous location in Lovell Heights shopping center encompassed more than 10,000 square feet, which included an on-site warehouse, while her new location has 3,000 square feet. While somewhat smaller, she observed "it's a lot of work to do the large-scale furniture showroom. This allows us to really focus on project-based clients."

However, "Qe still have an amazing showroom full of furniture and accessories, but our price points are a lot better (by) not having that extremely large space," Seeber added

She has outsourced its warehousing with a company that is handling all of her warehousing, along with deliveries for her clients, giving her more time to focus on design work.

Since the move, Seeber said her clientele and design projects increased more than 32 percent.

"We're excited about that," she added. "We're adding two more designers, as we speak, just to handle the workload."

The two additional designers will join the seven, including Seeber, at SDS.

The firm does design work for mostly residential clients, but also has taken on some commercial clients. She pointed out SDS still is doing kitchens, cabinetry and 3D plans for people who want to renovate.

And, "we're still doing entire house design," Seeber said, noting most of SDS's business is design projects, such as a living room redo.

Seeber said SDS "also takes clients' spaces that are mainly done and accessorize (the spaces) for them."

Another benefit of the move, she said, is the aesthetics of the location.

SDS is open from 8:30 a.m. to 5:30 p.m., Monday through Friday; from 10 a.m. to 2 p.m. on Saturday; and closed Sundays.

For more information, visit its website at shaedesigns.com or call 865-313-2656.