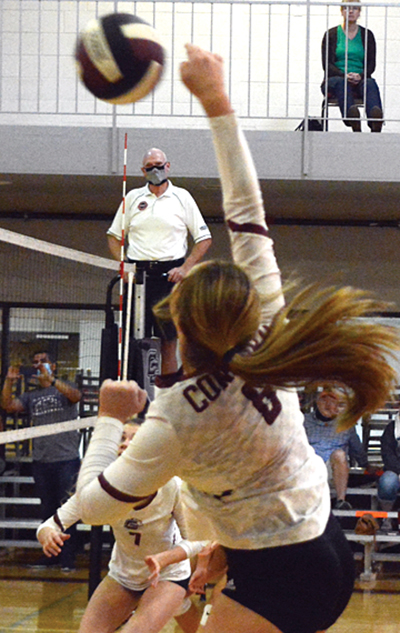 Five Farragut Lady Admirals volleyball players received District 3-AAA honors for their regular season efforts, while Hardin Valley Academy had three honorees.

Topping the FHS honors was middle hitter Ellie Ackermann, named 3AAA Blocker of the Year, while teammate Meg Frank joined HVA's Kami Livingston as Servers of the Year district-wide.

Ackermann and Livingston both were All-District First Team honorees among seven who were chosen.

Second-team honors included Amiranee Au, Farragut senior libero, and Hardin Valley's Savanna Butler.

All-District Honorable Mention selections were Lady Admiral Kate Priest and Kaylin Livingston of HVA.

Concord Christian points to post-season

Despite Concord Christian School's three-game loss to a powerful Oak Ridge team Monday evening, Sept. 28, at CCS, Lady Lions head coach Carmen Hochevar recognized improvement.

"Actually, our girls played much better against them tonight than the first time we played them at Oak Ridge (a four-game loss)," said Hochevar, whose team (18-8) goes into the Division II-A post-season play as a No. 2 district seed this week.

The Lady Lions actually rallied to fight off two game points in the first set. Down 24-22, sophomore outside hitter Annabelle Sulish served a pair of aces, three service winners total, as CCS rallied to win game one 26-24.

"Annabelle is pretty consistent on the back row serving," the CCS coach said.

But the Lady Wildcats (15-2) jumped ahead early in the next two games and hardly let up, winning both 25-19.

As for other Lady Lions efforts, "Our senior, Mikayla Profeta, is playing really well," Hochevar said about her middle hitter.