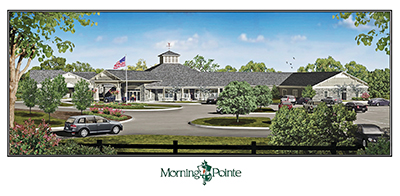 KNOXVILLE — Morning Pointe Senior Living leadership recently joined dignitaries from throughout the greater Knoxville area to celebrate the groundbreaking of its newest senior living campus, Morning Pointe of Hardin Valley.

Event speakers included representatives from Knox County Mayor's Office, Knoxville Chamber of Commerce and Alzheimer's Tennessee.

According to Will Brewer, Morning Pointe vice president of corporate communications, the Hardin Valley campus will be Morning Pointe's seventh building in the greater Knoxville area, complementing locations in West Knoxville, Lenoir City, Powell and Clinton, and will be the 36th Morning Pointe Senior Living community overall.

"Founded in 1996 by healthcare entrepreneurs, Greg A. Vital and J. Franklin Farrow, Morning Pointe Senior Living operates assisted living, personal care and Alzheimer's memory care communities in five Southeastern states," Brewer stated in a press release.

"Morning Pointe of Hardin Valley, Phase I of the 20-acre senior living campus is expected to open in the fall of 2021," he stated. "It will be a state-of-the-art, single-story assisted living community featuring 85 spacious apartments, including a secure wing specially designed for residents with Alzheimer's disease and other memory care disorders.

"Programming will adhere to Morning Pointe's strong focus on clinical care with physical and occupational therapies, life enrichment and wellness offerings and intergenerational activities," Brewer added. "The Lantern memory care wing will provide an array of Alzheimer's and dementia care services, including innovative therapies, such as Teepa Snow's Positive Approach to Care, Best Friends Approach and Morning Pointe's own Meaningful Day — a purposeful memory care program providing structure to help your loved one feel safe and secure.

"All residents will enjoy premier amenities and fine dining with local, farm-fresh ingredients," Brewer stated "According to 2016 U.S. Census Bureau population estimate reports, Knoxville is the second fastest growing city in the state behind Nashville," he said. "Following growth trends, Morning Pointe seeks to provide retirement living options to bring the over-65 population closer to medical services and adult children who are relocating to urban areas while also contributing to workforce development.

"Morning Pointe of Hardin Valley will create 250 construction jobs and another 250 permanent healthcare positions with a positive economic impact of more than $30 million annually, considering payroll, property taxes, and local purchase of goods and services," Brewer stated.

"Between the economic impact of the University of Tennessee, the access to healthcare resources and the continued growth of Knoxville and Oak Ridge, the greater Knoxville area has certainly been a wonderful place to expand our footprint of providing the highest level of senior resident care for generations to come," stated Greg A. Vital, president of Morning Pointe Senior Living. "Hardin Valley will soon become a thriving community of residents, associates and families who will call Morning Pointe home," he stated. "We are so pleased to add this Knoxville area location to the family."

"Morning Pointe of Hardin Valley assisted living and memory care is the first phase of the full- service senior living campus, which will provide a continuum of care to residents," Brewer stated. "The second phase will be a freestanding Alzheimer's Center of Excellence community designed specifically to meet the needs of residents with Alzheimer's disease and dementia.

"The third and final phase will be an independent living community," Brewer added.