Proud of its 'freaky fresh' fare, Jimmy John's has new Kingston Pike location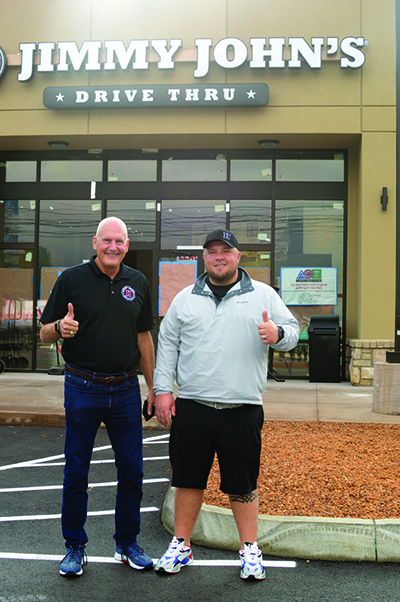 Jimmy John's franchise owners John Kleban and Mike Mayes have relocated their gourmet sandwich shop from Turkey Creek to 10812 Kingston Pike in Concord Galleria shopping center and are open to serve customers.

"We're real excited," Kleban said about the move.

The restaurant, previously at 11055 Parkside Drive, shut down the week of Nov. 2 through Nov. 6, Mayes said. The new location opened Wednesday, Nov. 18.

Mayes and Kleban said the new location allows them to move closer to traffic and to have a drive-through service for customers. They did not have that availability at the Parkside Drive store.

"Drive-thru gives us a whole different dimension," Kleban said. "It makes it easy for customers to get through quick. We probably have the fastest drive-thru in Town.

"We know our customers love that," he added.

"Jimmy John's has always been a delivery brand," Mayes said. "(Delivery) is what built the brand, (and) our fresh bread, fresh vegetables and hand-sliced meats.

"But we realized that our drive-thru stores performed significantly better," he added.

"And in these times, having a drive-thru is a big deal," Kleban added.

Mayes said they had an opportunity pop up, allowing them to "take a non-drive-thru store and turn it into a drive-thru location."

"It was somewhat divine providence that our lease (for the Parkside Drive store) was ending in the middle of this pandemic, which gave us the opportunity to move to something that is a lot more desirable for our customers, which is a drive-thru," Kleban said.

Jimmy John's provides "freaky fast, freaky fresh" sandwiches, Kleban said.

"The thing that separates Jimmy John's from all the other competitors are the quality of our product," he added. "All of our bread is fresh. We bake it continuously. We never sell bread that is over four hours old.

"All of our vegetables are purchased locally and chopped and sliced in house every day, and all of our meats are as well. Our meats are all natural. There are no preservatives.

"It's as healthy as you can possibly get."

Additionally, Kleban said they "try to make it as convenient as possible for our customers."

Customers can find French bread along with nine-grain wheat bread, or they can make their favorite sandwich in an Unwich lettuce wrap.

"We have five major meats: ham, turkey, roast beef, salami and capicola," Mayes said. "We also have tuna and bacon for our BLTs.

"We offer our own house brand of kettle-cooked chips," he added. "We have jumbo kosher dill pickles and our own homemade cookies."

Jimmy John's also offers delivery.

"We do (delivery) ourselves so we can make sure it's done right," Kleban said. It also has pick-up service.

"However, we can get it to customers to make it as easy as possible," he added.

Mayes and Kleban got into the franchise in 2013.

"We opened our first location in Cleveland, Tennessee," Kleban said. "Shortly after, we had the opportunity to expand into the Knoxville market."

They also have eight other locations, which include Cedar Bluff, Papermill Drive, Clinton Highway, Cumberland Avenue, Oak Ridge, Lenoir City, Cleveland and Chattanooga.

Along with serving a fresh product, Kleban noted, "We really do believe in supporting the community."

Every year it hosts Nurse Appreciation Week in May, giving out 5,000 box lunches to nurses all across Knoxville.

Jimmy John's is open from 10:30 a.m. to 9 p.m. seven days a week.

They said the best way to order a sandwich for delivery is to visit online at jimmyjohn's.com or download the Jimmy John's app.