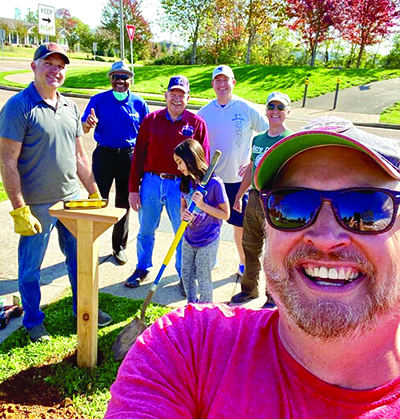 The Rotary Club of Farragut has provided an outdoor reading opportunity with its "Little Library" at McFee Park.

Service Project co-chair Brian Elton installed the library, with help from RCF members Bill Rice, David Smoak (Town of Farragut administrator), Jim O'Brien, RCF president Ed Jones and president-elect David Bluford Saturday, Nov. 7.

"Another Club member had lined up the Little Library — it was in a box," Elton said. "All I had to do was finish it.

"It was very rewarding to get this project up," he added.

Club members helped place the Little Library at Farragut's largest park, and Smoak's daughter, Olivia, was the first to follow the library's directive to "Take a Book, Share a Book."

"Before the work was even finished, it had its first patron in Olivia Smoak," Club publicity chair Tom King said.

"This is a 'little' project, but is actually a big project when it comes to reading, literacy and providing books for kids and others," King added.

The RCF's Little Library is located at the entrance of McFee Park, next to one of the greenway benches, so it is accessible to park and greenway users, said Sue Stuhl, Town Park & Recreation director. 

"We are thankful for Farragut Rotary providing and installing this — we are sure many of our park and greenway users will take advantage of it." 

It is just one of several freestanding libraries in the area, along greenways and in schools.

"I think parents and people who frequent the greenways are familiar with the process," Elton said, adding he is "excited about the Little Library's location.

"It is by the road, and perfect along the greenway. And it is great it is right beside a park bench, so you can just 'Take a Book' and sit down and read."

Elton has taken on the responsibility of re-filling the Little Library since its installation, with some help from Town groundskeepers. Already last week, it was about 50 percent full when he stopped by "so I stocked it back up" with a mix of adult and children's literary options.

"It is good feedback for us, too, as it shows it is certainly being utilized," he added.

Elton said RCF plans to install at least one more Little Library at a location to be determined.