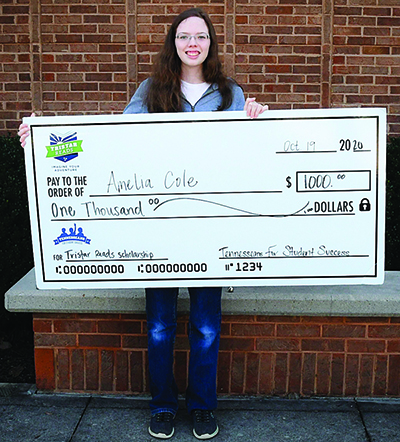 Amelia Cole, 14, a Christian Academy of Knoxville home-schooled ninth-grader, recently won first place in the state's 2020 Tristar Reads high school division.

The summer reading program took place between May 1 and Sept. 7. According to a press release, Cole read 40,800 minutes this summer, the most of anyone in the program, and earned a $1,000 scholarship, which was placed into her 529 savings account for post-secondary purposes.

"I feel like it is such an incredible accomplishment and an honor to have been given a college scholarship for something that I have always loved to do," said Cole, daughter of Ed and Becky Cole of Knoxville.

"We were notified Amelia was not only the winner of the ninth- through 12th-grade high school group, but she also read the most in the 2020 contest," Becky said.

"We're very proud of Amelia," her mother added. "We're happy that she won the scholarship for something she loves to do."

"By winning, I hope that I can help spread the word that it is never too soon to begin to read to a child," Amelia said.

"I also hope that it will encourage more parents to not only read with their children, but also create memories and a culture surrounded by books," she added.

"By taking an active role, parents can influence the

lives and education of their children."

Contest background

Tennesseans for Student Success, which sponsors the Tristar Reads scholarship program, holds the competition for students in elementary through high school levels.

"With 460 students logging 453,894 total minutes reading books this summer, we're encouraged, during these times, by the momentum Tristar Reads fostered among Tennessee students," stated Adam Lister, Tennesseans for Student Success president/CEO

"With only one-third of Tennessee students reading on grade-level, Tennessee's future is brighter when we prioritize literacy both inside and outside the classroom, with a continued focus on improving outcomes for every student across the state," he added.

Jeffrey Stubblefield, a Hamilton County second grader, won first place in the elementary school division while Sarah Collier, a Cheatham County eighth-grader won the middle school division.