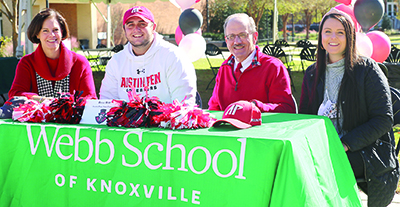 Two Farragut area high school golf stars have made their college choices: Farragut High School's Lance Simpson has chosen an SEC school, while Webb School of Knoxville's Reece Britt is staying in-state.

Simpson to Tennessee

The No. 21 ranked golfer in the Class of 2021, Simpson has left his mark on high school golf in the state of Tennessee.


The FHS Admiral product claimed the 2018 and 2020 TSSAA Class AAA individual state titles, while also helping lead the Admirals to the team title earlier this fall.

Simpson's 13-under performance during two rounds at the 2020 TSSAA state championship was the second-best tourney score in state history.



He also claimed the 2020 Tennessee Junior PGA Championship by eight strokes in June after shooting 10-under in two rounds at Nashville's Old Hickory Country Club.



"One of our priorities in recruiting is to recruit the in-state players who have proven they can compete at an elite level nationally," UT head coach Brennan Webb said.

"Lance is a perfect example of someone who fits that criteria. His physical skill set will translate very well to the highest levels of college golf."

Britt to Austin-Peay

Choosing Austin Peay State University in Clarksville, Britt is a five-year letterman for the Spartan varsity boys' golf team with an impressive career resumé that includes three top-10 finishes at the TSSAA Division II-A State Golf Championships.

He finished eighth at the 2016 state contest as an eighth grader, and most recently took third at this year's tournament, posting a 2-over-par 146 – just four strokes short of first place – to lead his Spartan team to a third-place state trophy.

A Tennessee Sports Writers Association All-State selection, Britt won the region crown his junior year. He also was picked as a Knox News Golfer to Watch for the 2020-2021. Britt is a recipient of Webb's Spartan Award, which recognizes leadership, character and achievement in a varsity sport.

Britt was named 2019 Sneds Tour Player of the Year (Masters) and later, a 2020 Sneds Tour Spirit of Golf Award winner.

He finished third as an individual at the 2020 Tennessee Junior PGA Tour Championship and was a two-time member of Team East in the Tennessee Junior Cup (2018, 2019).