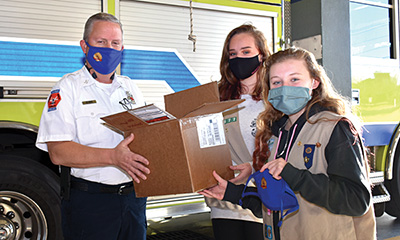 Two Farragut High School freshmen Girl Scouts have made a difference for Rural Metro firefighters, while also working toward achieving their Silver Medal accreditation.

Audrey Thomasson and Alison Dedman of Girl Scout Troop 20377 presented Rural Metro Public Information officer Jeff Bagwell with 64 masks earmarked for firefighters Monday, Dec. 21, at Rural Metro Fire Hall Station No. 41, along North Campbell Station Road.

"We are so appreciative of your efforts," Bagwell said. "We have 260 personnel, and everyone had one mask already, so for them to get another one means a lot to us.

"It really makes a difference when the community steps up like this, to help us save lives, as we need to protect ourselves, too," he added.

Thomasson and Dedman put more than 50 hours into the project, from researching pricing and ordering the masks to receiving approval from scouting officials, writing up press releases and working with Rural Metro on the donation.

"This project is about protecting first responders, including firefighters, paramedics and EMTs against COVID-19 and other potential viruses," the girls' press release stated. "Protecting local first responders with highly protective masks will help stop the virus from spreading, as well as keep them healthy so they can continue providing life-saving services in our community."

"It feels good to help," Dedman said during the presentation. "Especially since Tennessee is one of the worst (states currently for COVID infections)."

"I am so glad we were able to help out as much as we did," Thomasson added.

For both girls, the project was intensely personal, as Thomasson lost her maternal grandfather to COVID-19, and Dedman and her immediate family members all were sick but successfully recovered from the virus in 2020.

"It was a hard year," said Audrey's mother, Lee, who helps out as assistant scout master for their Troop. "This was really dear to their hearts."

"We are asking other groups to contact first responders near them to see if they can help purchase masks to protect against COVID-19," Dedman added.

Jen Braun is the Troop's Scout leader.

Both Thomasson and Dedman have been in Girl Scouts for 10 years each.

Thomasson's father is Kris Thomasson. She has been attending school virtually during the fall semester.

Dedman is the daughter of Steve and Jennifer Dedman, and she attended school in person this past semester.