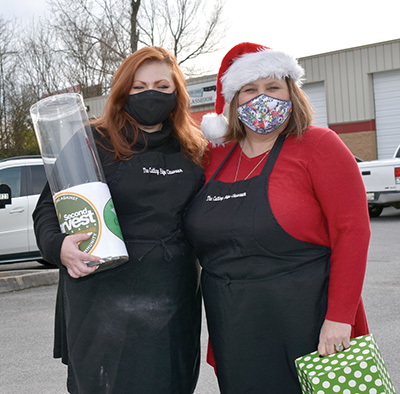 Chef John Alunni and his wife, Jaana Alunni, co-owners of The Cutting Edge Classroom in Farragut, made Christmas a little more special for area residents and two local non-profits Wednesday, Dec. 23.

The couple, assisted by more than a half-dozen volunteers, handed out homemade pasta meals while also taking up donation for Second Harvest of East Tennessee.

About 250 meals had been prepared, and were given out on a first-come, first serve basis at The Cutting Edge Classroom parking lot along Herron Road from 3 to 5 p.m.

John said afterward about $2,000 had been raised for Second Harvest.

"We wanted to give back to the community that has been so supportive of us; and also, we were just sick of seeing people go hungry," he said of the effort.

"Everything went really well, and I hope we made a difference."

Leftover meals were given to Knoxville Area Rescue Ministries the following day, which serves the homeless population in downtown Knoxville.