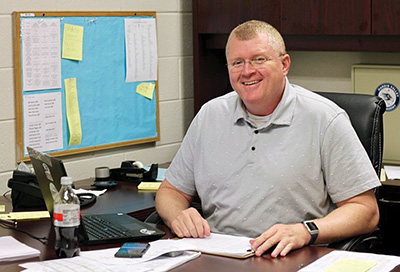 An assistant principal whom colleagues, parents and students said "went the extra mile for students" at Hardin Valley Academy while known as a "Gentle Giant," Kenneth Dunlap passed away suddenly during the holiday break.

A Knoxville native and 35-year educator who also served as a teacher, athletic director and sports coach, Mr. Dunlap, 56, died Thursday, Dec. 17, after suffering a massive heart attack in his home.

"Ken would look for a student who didn't have much, whether that was financial support or parental support," Dr. Rob Speas, HVA executive principal, stated in an e-mail to farragutpress. "He would quietly see how he could support them, whether it was saving them some extra food at lunch time, rewarding them with goodies for good behavior or providing presents for them at Christmas.

"He never wanted any credit from these actions."

Thanks to his experience, "Ken provided me with a level of support that other staff members at Hardin Valley could not because Ken had served successfully as a head principal. He could see issues or potential problems before they occurred," Speas stated.

"He brought a veteran perspective to the conversation that always elevated our solutions when we were problem solving at Hardin Valley," he added. "He was good educator, but more importantly he had a genuine care and concern for the well-being of others.

"He will be missed in the Valley."

Also serving in administration "at several schools" according to Danny Trent, Knox County Schools executive director of Secondary Education, Mr. Dunlap "was a true champion of students.

"When he was at Powell High School, he started the first cheerleading team for students with disabilities called 'The Sparkles,' and he always made a point to high-five members of the band during games," Trent added.

"Ken touched the lives of many during his time with us, and our thoughts and prayers are with his family."

Joining the HVA staff in January 2019, Mr. Dunlap's career started at Greenback High School in Loudon County, where he was a science teacher and a successful head coach.

He led the GHS Lady Cherokees girls basketball team to the TSSAA Class A state championship in 1987.