Bearden girls late rally keeps victory streak alive vs. FHS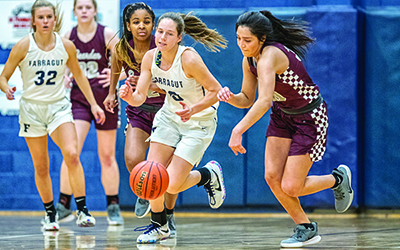 It took some overtime and a bit of a comeback, but Bearden High School's girls basketball team notched a victory Saturday afternoon, Jan. 9, over Kingston Pike rival Farragut.

The Lady Bulldogs erased a 10-point deficit and used some late-regulation heroics from Emily Gonzalez to force overtime. Bearden would eventually capture a 61-60 victory over the Lady Admirals in FHS's Lynn E. Sexton Gymnasium.

Bearden (10-1 overall, 4-0 in District 4-AAA) fell behind 28-18 when Farragut's Avery "Ace" Strickland buried a shot with 3 minutes, 35 seconds to go in the third quarter.

The Lady Bulldogs then began their journey on the comeback trail. They still trailed the Lady Ads (9-1, 4-1) 45-37 after Keeleigh Rogers knocked down a pair of free throws with 1:45 remaining in the fourth quarter.

Then things really got crazy.

Farragut had a 50-46 lead with lead with 15.5 seconds left in the final quarter before Gonzalez scored with 8.2 seconds left.

Lady Admiral McCall Willis made a free throw to make it 51-48, leaving the door open for a game-tying 3-point shot for the Lady Bulldogs — and Gonzalez delivered as time expired with a bank-shot three from up top.

"I knew I had to get it off because time was running out," she said. "I haven't been hitting a lot lately, but I knew that we had to have it.

"I know I can shoot and I've just to got believe that it's going in, and it went in," she added.

Early in the game, shots didn't fall for Bearden, and its plight got more difficult when senior point guard Zneyah McLaughlin fouled out in the fourth quarter.

But Gonzalez, who ran the point after McLaughlin exited, saved the day as she scored 14 of her points over the last 12 minutes of the contest. The Lady Bulldogs scored just 25 points over the first 24 minutes of the game.

"We definitely didn't play our best basketball," BHS coach Justin Underwood said. "When you score 25 points in three quarters, you're not going to beat a lot of teams.

"But I was proud of the girls for stepping up (after McLaughlin left the game); we keep talking about next man up. It doesn't have to be your night every night. Scoring 36 points between the fourth quarter and overtime, we really turned it on at the right time."

The Lady Bulldogs never trailed in the extra frame. They also received late sparks from Jennifer Sullivan, Maddie Brillhart and Avery Treadwell.

Sullivan finished the contest with 13 points while Brillhart and Treadwell added 12 points each. Treadwell and Brillhart were also forces on the boards. Treadwell had 12 rebounds and Brillhart pulled down nine.

For Farragut, the Lady Admirals felt like they let a win get away.

"We really felt like we let one get away," FHS coach Jason Mayfield said. "We're not too disappointed about this one even though it was a tough loss to a big rival and we made some mistakes.

"We can learn and build on this."

Ashlyn Sheridan led the Lady Admirals with 18 points. Rogers added 15. Macy Barnes finished with 11 and Strickland chipped in with nine for Farragut, which led 7-5 after the opening frame and extended that advantage to 22-16 at halftime and to 32-25 by the end of the third stanza.