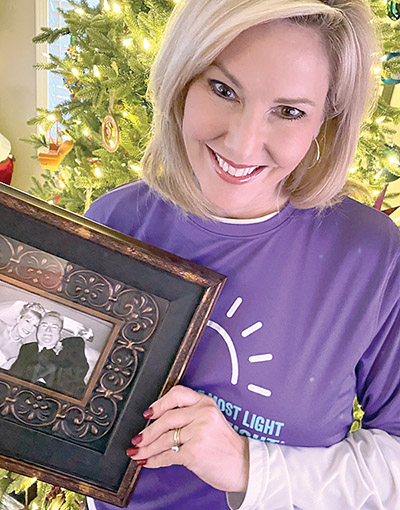 For individuals and family members dealing with Alzheimer's disease, every day can seem like "the longest day."

For that reason, and tying into the actual "longest day" of the year, the Summer Solstice, the Alzheimer's Association is kicking off its annual awareness and fundraising campaign nearly six months out on Thursday, Jan. 28.

On that day, Farragut resident Kristin Farley will serve as emcee for two virtual kickoff parties: one at noon, the other at 8 p.m., for which registration is being offered through Event Brite.

The Longest Day event itself is designed to "activate communities to fight the darkness of Alzheimer's," Tennessee chapter manager Rebecca Williams said.

A former news anchor at WATE-TV 6, Farley's own experiences with the organization began as she navigated the uncharted waters of her late father: Phil Farley's memory loss and illness.

"Rebecca really helped me so much while my father was ill," Farley said. "She hooked me up with so many resources that helped me and my family."

Farley said she really noticed her father was suffering from failing health and memory loss during a Thanksgiving visit two years ago from his home state of Maryland.

"Watching his incredibly sharp mind deteriorate over the last few years of his life was heartbreaking," she said. "But, since he was so far away, finding help (through the Alzheimer's Association0 to deal with it was so helpful.

"They were able to provide me with key talking points, for example, so I was able to have conversations with him in ways that wouldn't upset him and made that communication much more positive for both of us," Farley added.

After her father passed away last May, Farley felt compelled to "give back to the organization, which had helped us so much.

"I was always about giving back to my community, but it really is different when you are personally impacted by something, and you can learn from it and share what you know," she added.

Farley took part in the Alzeheimer's Association's bookend event Dec. 21 on the shortest day of the year, Winter Solstice, during which participants lit luminaries in memory and in honor of loved ones suffering from the disease.

By kicking off the campaign in January, participants have plenty of time to host a fundraising event prior to the June 20 Longest Day event itself.

"June 20 is the day with the most light," Williams said. "On that day, thousands across the world will stand up to the darkness of Alzheimers through an activity of their choice, which can be held that day or any day or time period leading up to it.

"The kick-off will be an opportunity for folks to learn more about the event and get involved," she added.

Farley is planning hers for March 28, which is her father's birthday. She is planning either an in-person or virtual "Painting with a Twist" event in memory of the man she calls her "biggest cheerleader."

She is calling her fundraising efforts "Fun for Farkle" because "my dad would want us all to remember his love of family, fun and laughter."

Those interested in joining her effort can visit act.alz.org/goto/Farley.

To register for The Longest Day, visit alz.org/tld.

For more information, call Williams at 865-661-0179 or e-mail rawilliams@alz.org.