Down by 12, Farragut takes care of Hawks at HVA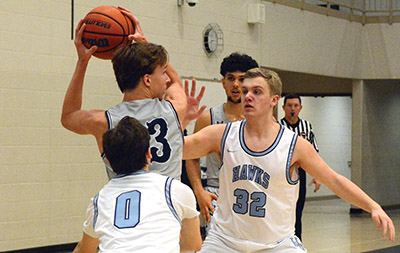 HARDIN VALLEY — As he watched his team endure its early share of offensive struggles, Farragut High School boys basketball head coach Jon Higgins didn't hit the panic button.

The Admirals fell behind by 11 points early, but they persevered and notched a 69-61 District 4-AAA victory over rival Hardin Valley Academy Friday night, Jan. 15, at HVA.

"Even when we were down, I thought our pressure defense was pretty good," Higgins said after his squad notched a comeback victory on the road and improved to 6-6 overall and 4-3 in the district. "We just weren't hitting shots."

The Admirals fell behind 28-17 late in the second quarter before scoring the last seven points of the first half.

From there, it was a rollercoaster ride until Farragut found its shooting touch over the final eight minutes of the contest. The game was knotted 49-49 heading into the fourth quarter before the Admirals got hot and used a 12-0 run to take a 61-49 lead when Dillon Atwell knocked down a 3-point shots with five minutes left in the game.

Atwell, one of Farragut's top scorers, had all 10 of his points after halftime. He also got plenty of late help from Isaiah Smith, who scored seven of his 10 points after halftime.

"I think Dillon played well in the second half," Higgins said. "He didn't play so well in the first half, but like good players do, he stepped up in the second half.

"Isaiah had seven of his 10 points in the second half. I thought Ryan Neal and Dallas (Carbaugh) played well pretty much the whole game."

Carbaugh led the Ads with 15 points, while Neal added 12. Carbaugh, a sophomore, also pulled down eight rebounds and had four steals for Farragut, which trailed 13-6 after the first quarter.

For the Hawks (3-5, 2-4), the game continued a dubious trend according to first-year head coach Shane Wells.

"I'll say this, we go through long scoring droughts this year," said Wells, who came to HVA after a long and successful tenure at Christian Academy of Knoxville. "We've been going through long scoring droughts and that's becoming a trend for us.

"We've been in every game this year. But we've gone through those droughts and you know that Farragut is too good to keep missing the shots that they were missing early."

Hudson Stokes, a junior guard for the Hawks, scored 14 points. Jaelyn Pannell, another junior guard, had 10 points. Ty Gentry and Dale Henley finished with eight points apiece.