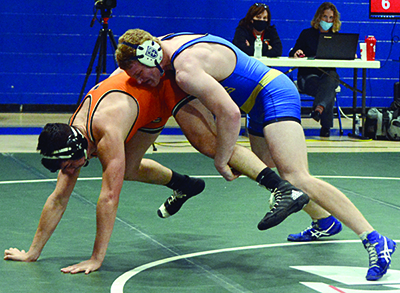 KNOXVILLE — Four Farragut-area wrestlers came close to championships, each finishing second, during the 14-team inaugural Christian Academy of Knoxville Invitational Wrestling Tournament Saturday, Jan. 23.

CAK Warriors Ethan Fogle (195-pound class) and Parker Sapp (132), joined Webb School of Knoxville's Dominic Vance (182) and Brik Boruff (220) as runner-ups in a field including Division II power Chattanooga McCallie, the tournament team champion.

"Our wrestlers did very well," said CAK head coach Marquis Dotson III, who also was tournament director.

Losing for just the second time this season (19-2), Fogle "battled another Ethan from Pigeon Forge (Sutton, losing 7-6 in the championship match). They've gone back-and-forth all year long," Dotson said. "Ethan (Fogle) had some good pins on his way to the finals.

"Parker Sapp (16-5) took a tough loss in the very last second of the (championship) match, losing 3-2 to Timothy Charpenter of Lakeway."

Finishing ninth as a team, CAK's other top finishers were Hawk Dunn (third, 145) and Andrew Justice (sixth, 113).

David Garabrandt's Farragut Admirals (10th) were led by freshman Connor Lyons (third, 126) and sophomore Aiden Enters (third, 160).

"It's exciting to see he's actually able to compete and take third as a freshman," Garabrandt said of Lyons.

About Enters, "It was actually pretty nice to see how he is outside of our practice room — his first competition in a big-style tournament," the Admirals skipper said.

Senior Zach Garabrandt finished fourth at 145, while Ethan Stinnett claimed fifth at 170 and Pierce Broadhurst took sixth at 106.

Also leading Webb (seventh) were Matthew Tieng (third, 120), Nathan Redford (fifth, 145), Jalen Hill (sixth, 152), Joey Bonifacio (fourth, 195) and Leo Bonifacio (sixth, 285).

Top wrestlers for Knoxville Catholic were Keondre Jarmon (fifth, 182), and sixth for Bryce Ha (120), Eli Jones (220) and Charles Rinehart (285).